Bruce Willis has been seen in public for the first time since his announcement about being diagnosed with dementia. The 67-year-old actor was spotted in Santa Monica where he met up with some friends.
Bruce retired from acting last year after being diagnosed with aphasia. Unfortunately, his condition has since worsened, and his family has recently disclosed that he is now struggling with frontotemporal dementia. His diagnosis has attracted significant media attention.
On February 16th, a statement was released by Bruce Willis' family members including his wife, Emma Heming, his daughters, and his ex-wife, Demi Moore. The statement acknowledged the difficulty of the situation but expressed relief in finally receiving a clear diagnosis of Frontotemporal Dementia (FTD).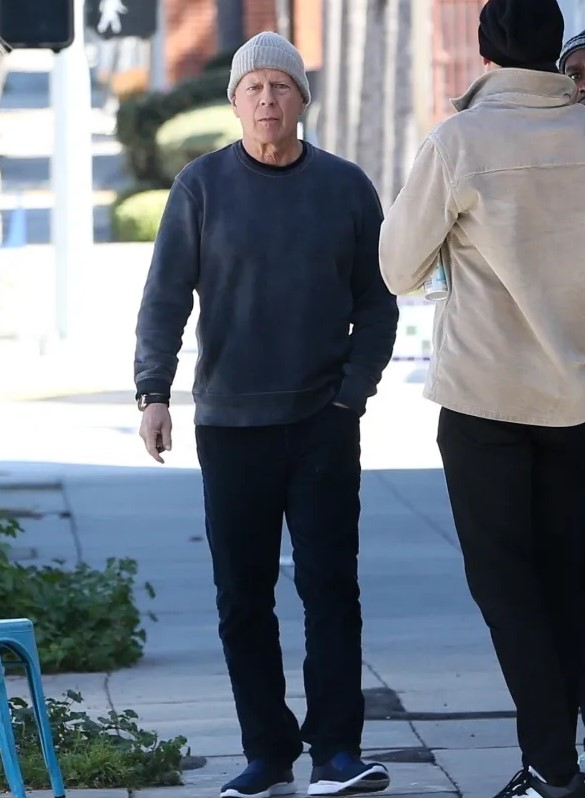 FTD is a relatively unknown and cruel disease that can affect anyone. It is the most common form of dementia for people under the age of 60, and due to the lengthy diagnostic process, it may be more widespread than currently understood.
Despite the challenges posed by FTD, Bruce Willis has always found joy in life and has inspired others to do the same. The family expressed their gratitude for the outpouring of support and care they have received during this difficult time.
Bruce, who is a well-known personality, is now spending time with his loved ones in private. Recently, he was spotted in Santa Monica with friends for the first time since being diagnosed with frontotemporal dementia (FTD).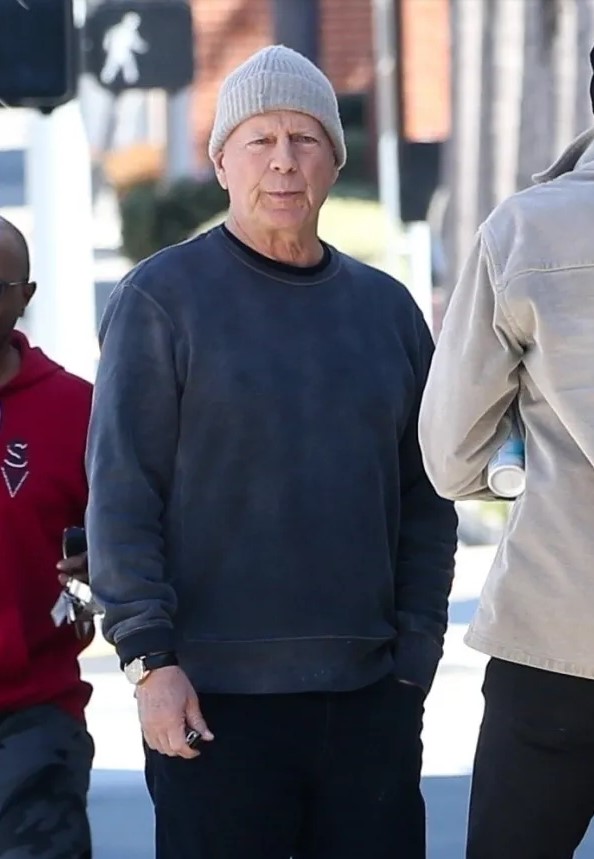 As per Daily Mail, Bruce was wearing a blue sweater, black joggers, and a woolen hat during his outing. FTD is a degenerative condition that affects nerve cells in the lobes behind the forehead, leading to personality changes, repetitive movements, speaking difficulties, and other symptoms.
People around the world are sending their thoughts and prayers to Willis, who is still a beloved public figure. As a well-known personality, it's not surprising that the media is interested in him.
Emma Heming Willis, the wife of American actor Bruce Willis who has been diagnosed with untreatable dementia, made a plea to paparazzi after he was followed and got yelled at while he was out having coffee with his friends. | @APasajolINQ https://t.co/QhbgwyiRmZ

— Inquirer (@inquirerdotnet) March 7, 2023
However, his wife, Emma, recently cautioned the paparazzi to respect their privacy and give Willis the space he needs. Emma emphasized that caring for someone with dementia can be challenging and stressful, even for simple tasks like going out for coffee. She believes that more education is needed to raise awareness about dementia and its effects. Therefore, she requested photographers and videographers to maintain their distance while capturing images of her husband.
In a video, Emma acknowledged that her husband's status makes him a target of the media. However, she wanted to remind them that his declining health changes things. Emma asked the press to give her husband space and refrain from yelling at him or asking about his condition.
She also requested that they avoid making loud noises or expressions of excitement around him. Emma's message was a public service announcement to allow her family or whoever is with her husband to move him safely from one place to another without any disturbance.
We are sending our heartfelt thoughts and prayers to Bruce Willis and his family. Let us know your thoughts about this article in the comment section below.