Princess Diana was affectionately known as "The People's Princess", a title that went beyond just a pleasant moniker. Her dedication to philanthropy and her genuine warmth made her a pivotal figure for the British populace, especially during challenging times. She once eloquently stated her desire not to be a queen on official documents, but rather a queen cherished in the hearts of the public.
Her untimely demise in a tragic accident in Paris is etched as one of the most shocking episodes in recent British history. Despite this, Princess Diana's influence persists, not just through her sons, William and Harry, but most significantly, in the collective memory of the people. There exist numerous breathtaking photos of Diana that are frequently seen, but there are also many other lesser-known images that haven't been as widely shared.
Princess Diana passed away too early, and her life was filled with struggles and challenges. Unfortunately, she was constantly hounded by the media and faced many difficulties in her personal life after becoming a member of the royal family. Despite all the hardship, Princess Diana's love for her sons, William and Harry, was unwavering.
She was a doting mother who went the extra mile to ensure that William and Harry had as normal a childhood as possible. Princess Diana often brought them to amusement parks and other exciting places for kids. While she was aware of the royal responsibilities, including the etiquette and privileges like being served meals, she wanted her children to experience joy and freedom like other youngsters.
Princess Diana was keen on ensuring that William and Harry had opportunities to experience ordinary childhood moments. Sometimes, she would secretly take them out of the palace to enjoy fast food.
Diana's former personal chef, Darren McGrady, shared a story with Marie Claire about how one day she came into the kitchen and told him to cancel the boys' lunch because she was taking them to McDonald's. When he offered to make burgers, she explained that it was the toys that came with the meal that the boys were excited about.
William and Harry cherished the time spent with their mother. Diana raised them to feel normal and relatable, emphasizing that, despite their royal status, they were kids just like anyone else.
Diana made every effort to be an exceptional mother and understood that siblings might occasionally quarrel. She had a strong desire for her sons to maintain a tight bond.
Royal historian Robert Lacey shared insights into William and Harry's upbringing in his book "Battle of Brothers". He explained how the brothers formed a close relationship during their childhood and teenage years. Princess Diana was determined that this bond should last a lifetime and she wanted them to make a heartfelt commitment to always stay "best friends".
In "Battle of Brothers," Robert Lacey cites Simone Simmons, a psychic who was close to Princess Diana.
Simmons claims that Diana urged her sons, saying, "You must promise me that you will always be each other's best friends," and "never let anyone come between you."
According to Simmons, both William and Harry promised they would honor that. They high-fived and hugged their mother warmly.
"Anybody would have melted at the sight," Simmons remarked. After this touching moment, the brothers went outside to play soccer.
From the start, Princess Diana didn't let royal life overshadow the importance of her children. She made sure they were her top priority and wanted to shield them from anything that could drive a wedge between them. This even included concerns about the Royal Family itself, as Diana reportedly feared that the Queen and Charles might be scheming to keep her away from her children.
Though William and Harry had promised their mother to remain close, their relationship has faced some strains in recent years, especially after Harry decided to step back from royal duties in 2020. However, on what would have been Diana's 60th birthday a year ago, the brothers came together to reveal a statue in honor of their beloved mother. The bronze statue, which features Diana with three children, was installed in the Sunken Garden at Kensington Palace, where she used to live in London.
On the day that would have been their mother's 60th birthday, William and Harry released a joint statement saying, "Today, we remember her love, strength, and character – qualities that made her a force for good around the world, changing countless lives for the better." They expressed their daily longing for her and shared their hope that the statue would eternally serve as a tribute to her life and impact.
This year was also the 25th anniversary of Princess Diana's death. The brothers chose to commemorate their mother separately. A royal insider told People Magazine that William decided to spend the day in a low-key manner with his wife, Kate Middleton, in Windsor.
Rare photos of princess Diana
During much of her time as a royal, Princess Diana was relentlessly pursued by the media and paparazzi. She was probably the most photographed person in the world back then.
In essence, everyone wanted a glimpse of Diana, and this led to tabloid newspapers willing to pay huge sums for her pictures. According to The Guardian, they were even ready to pay up to $500,000 for blurry images of her.
Her sons, William and Harry, experienced firsthand the double-edged sword of media attention on their mother. Harry mentioned that one of the reasons he wanted to leave the Royal Family in his early 20s was because of how he saw the press treating his mother before she passed away.
Harry expressed his concerns about the relentless media attention, saying, "Look what it did to my mum, how am I ever going to settle down and have a wife and family when I know that it's going to happen again," and added, "I don't want to be part of this."
Despite the paparazzi often hounding Princess Diana, there are also many iconic photographs that capture her warmth and grace. These images provide a beautiful glimpse into Diana's life and work. A deep dive into the archives reveals hundreds of lesser-known pictures of the beloved Princess. These photographs have been compiled to showcase a side of Diana that is not often seen, reflecting the richness and depth of her life.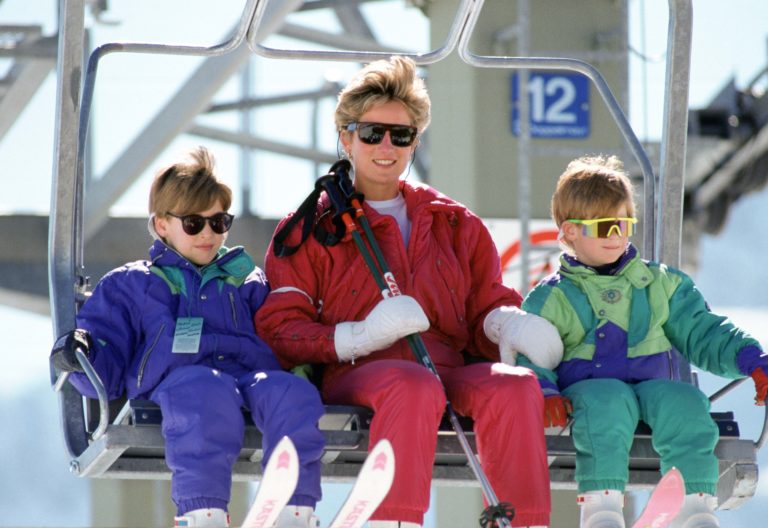 Diana was not just a beloved figure but also a fashion trendsetter during the peak of her popularity. She carried her stylish flair even during sporting activities like skiing.
In one of the pictures, Diana is seen on a skiing trip in Austria with her sons, Harry and William. The photograph was taken around the time Harry turned nine years old. The entire family looks fabulous in their skiing gear!
In 1990, Diana took her children along with her sister's kids to Necker Island in the British Virgin Islands, which is owned by Richard Branson of Virgin Group.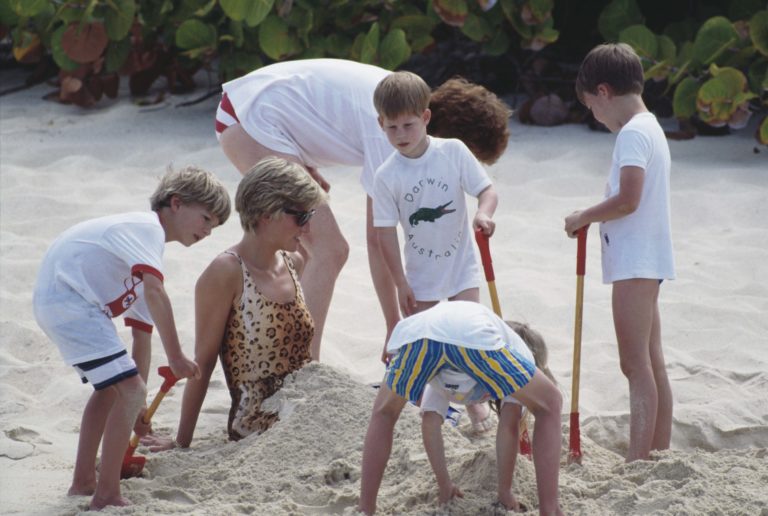 Diana loved to have a good time and ensure those around her did too. There's a lovely picture of her and Harry at Thorpe Park, an amusement park, in 1992, which captures the joy and fun they had together.
Diana was commonly known as "The People's Princess" because she was deeply involved in humanitarian work and was a model of kindness and compassion. One touching photo shows Princess Diana during a visit to an Orthopedic workshop in Luanda, Angola, where she is seated with victims of land mines. This picture highlights her caring nature and dedication to making a positive impact.
There are countless captivating photographs of Diana. One such picture was taken in 1971 during a summer vacation in Itchenor, West Sussex, showcasing her younger days.
Another notable photograph was taken outside her apartment in Coleherne Court, London, just before she got engaged to Charles. This picture captures a moment in time just before her life transformed into royalty.
In one amusing photo, young Harry is caught sticking out his tongue at the crowd gathered around Buckingham Palace, while Diana looks a bit surprised.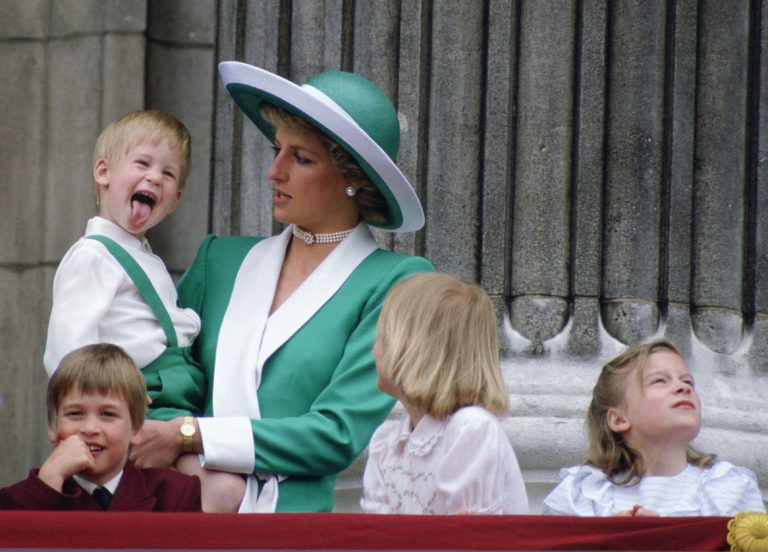 Princess Diana had a flair for fashion, and she had a fondness for the clothing brand Barbour, which remains popular among the royals. She wore Barbour especially well.
During a visit to the Outer Hebrides in Scotland in 1985, Diana chose to wear a stylish Barbour-style waxed cotton jacket, which was just perfect for the occasion.
Jayne Fincher, a renowned royal photographer who captured many iconic images of Princess Diana, closely followed the royal couple. She even chartered a plane to reach the Outer Hebrides where Charles and Diana were on an official visit. Recounting her arrival, Fincher mentions that Prince Charles jokingly asked her, "Where have you been?" when she finally caught up with them.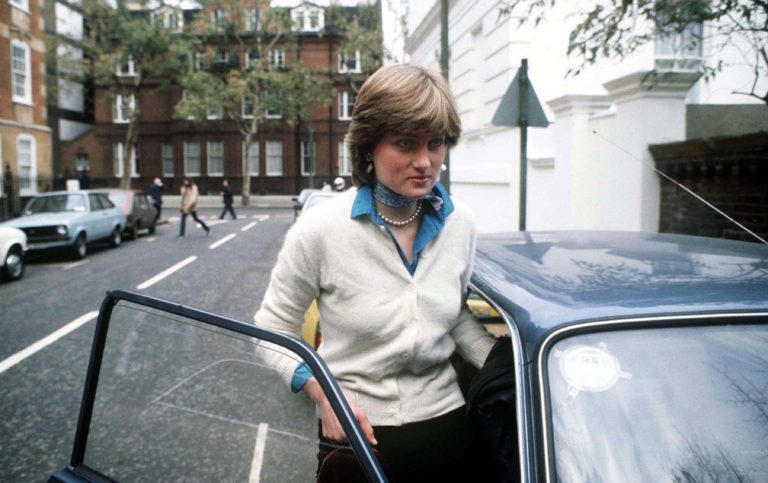 The Outer Hebrides is known for its harsh weather, with strong winds and heavy rains. Princess Diana experienced this firsthand during her visit in 1985.
Despite the weather, she looked stunning in the photos. Jayne Fincher, the photographer, noticed something special when she looked at the photos. She said, "You don't see Diana dressed like that very often. She looked so happy. It was pouring rain, but her makeup was perfect and un-smudged. I looked a mess, as usual."
Another memorable photo was taken during the last summer of Diana's life. In the picture, she is with her boyfriend Dodi Al Fayed on a boat in St. Tropez, France, joyfully jumping into the water.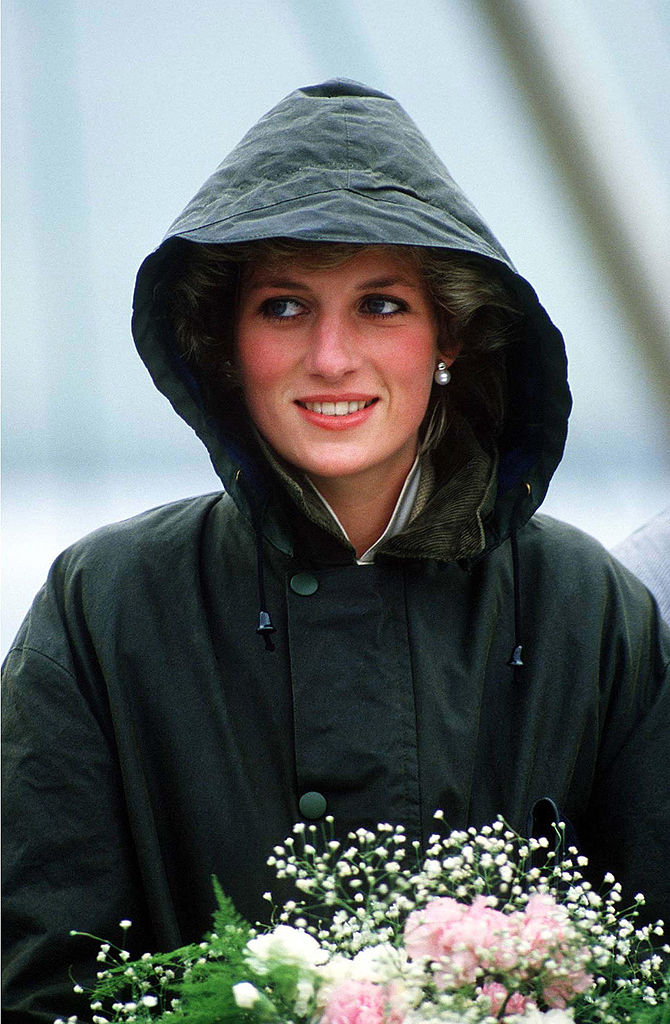 Princess Diana will forever be remembered as an incredibly kind and wonderful person.
Feel free to share this article with friends and family on Facebook to honor Princess Diana's memory!