While Pink may come across as a laid-back mom, she's firm when it comes to tech rules for her kids. Contrary to some celebrity parents, she restricts or even forbids cellphone use for her two children.
Pink and her husband, motocross racer Carey Hart, have two kids: Willow Sage and Jameson Moon.
In a February 2022 interview with Carson Daly on The Today Show, 43-year-old Pink stated she doesn't allow her then 10-year-old daughter, Willow, to have a cellphone. Pink acknowledges the pros and cons of technology, even for adults. "For kids, I'm not there yet," she said. Despite Willow mentioning that many of her classmates have phones, Pink remains unswayed, responding, "I don't care."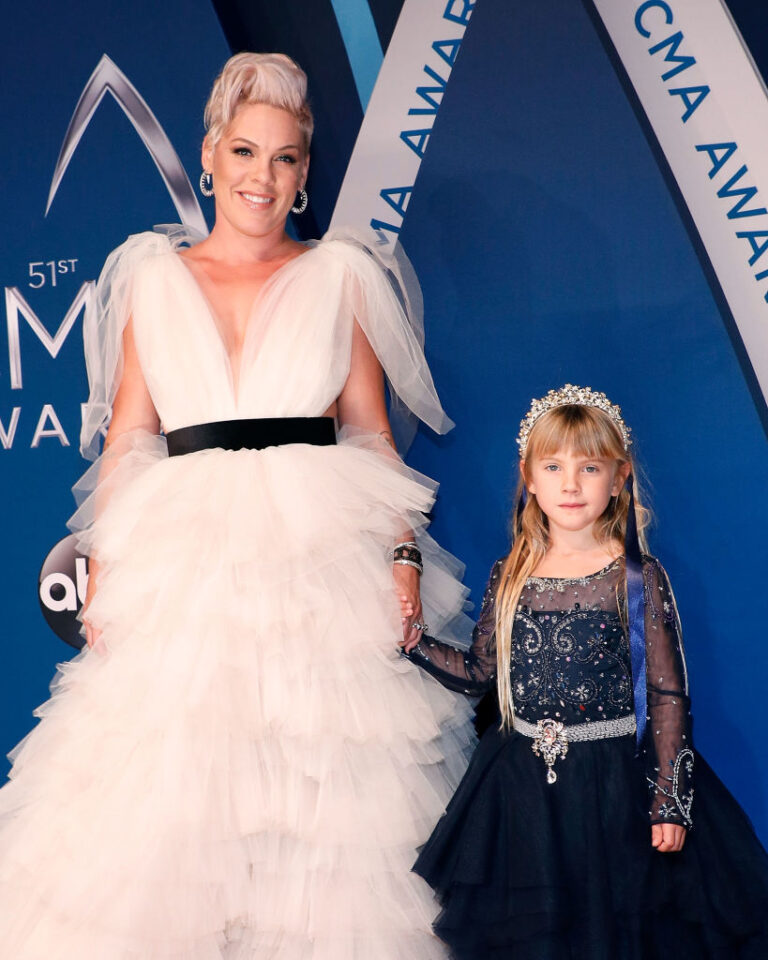 While Pink doesn't let her daughter have a cellphone, she recognizes the importance of technology, saying, "We can't be dinosaurs ourselves as parents, we have to sort of embrace it and go with it." She's a proponent of attachment parenting, emphasizing a close bond with her children. Demonstrating their close relationship, in February 2021, Pink and Willow collaborated on a song titled "Cover Me in Sunshine". Their harmonious duet showcases Pink's commitment to active parenting rather than letting technology do the job.
In a 2018 People magazine cover feature alongside her two children, Pink opened up about her own upbringing. She shared that, as a young girl, she didn't have a tight bond with her working parents. Despite the lack of tech distractions back then, Pink cherished the memories she made, especially with her brother. She reminisced, "My brother and I rode bikes to school and played in woods all day. Lots of rescuing animals, tree climbing, sports, gymnastics. I had a good childhood."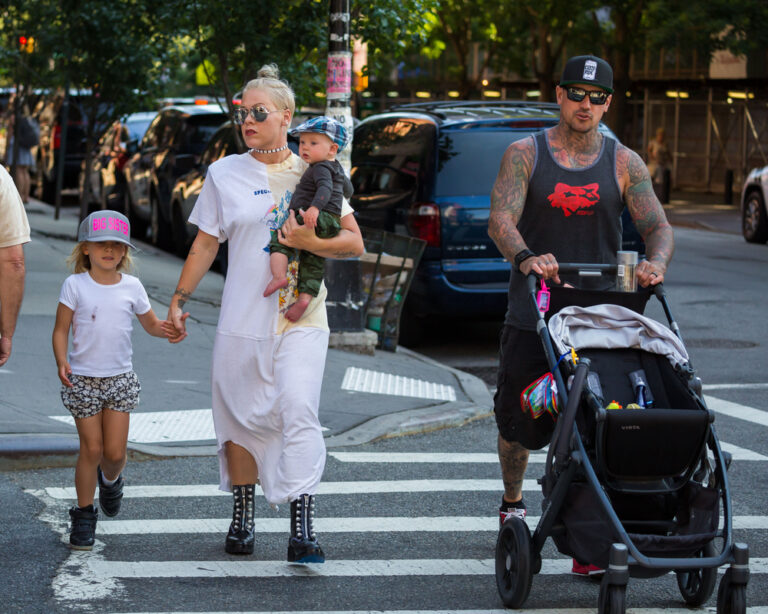 Pink emphasizes the importance of showing affection and being a dependable presence in her children's lives. "I believe in letting your kids know they can count on you, and that you'll be there," she remarked. Although her own upbringing was different, with her parents not necessarily following this belief, she turned out fine. She tells her daughter, Willow, "I'm going to teach you the rules so that you'll know how and when to break them." Beyond imparting wisdom, Pink seeks innovative ways to bond with her kids. In 2022, she collaborated with the Calm App on Calm Kids, using her calming voice to narrate bedtime stories to help youngsters drift off to sleep.
In 2022, Pink mentioned in an interview with People that, even though she didn't specify which device her son uses to access the app, Jameson has become a fan of her bedtime stories on the Calm App. "Jameson wants to have it very night. He's been listening to Minions nonstop for five weeks, but now he's requesting my story so I'm feeling very proud." she shared.
Pink isn't alone in her stance on limiting technology for kids. Oscar-winner Penelope Cruz is also strict about this. As reported by US Weekly in December 2021, Cruz has prohibited her children, Leo (born in 2011) and Luna (born in 2013), from using cell phones and engaging on social media.
Prominent figures in the tech industry also set boundaries for their children's use of technology. Mark Cuban, a tech billionaire, closely monitors his children's tech habits. According to Business Insider, Cuban employs Cisco routers and management software to oversee and control the apps his children access, with the power to completely turn off their device usage. Furthermore, he has set a rule in his household: for every hour spent reading, his children earn two hours of Netflix time.
Similarly, Microsoft co-founder Bill Gates didn't permit his children to have cellphones until they reached the age of 14, showcasing that even tech giants recognize the importance of setting tech-related boundaries for their kids.
Many renowned figures, including Facebook's Mark Zuckerberg, former YouTube CEO Susan Wojcicki, entertainer Jennifer Lopez, former U.S. President Barack Obama and First Lady Michelle Obama, as well as the Duke and Duchess of Cambridge, Prince William and Kate Middleton, also advocate for controlling or restricting their children's tech and cellphone usage.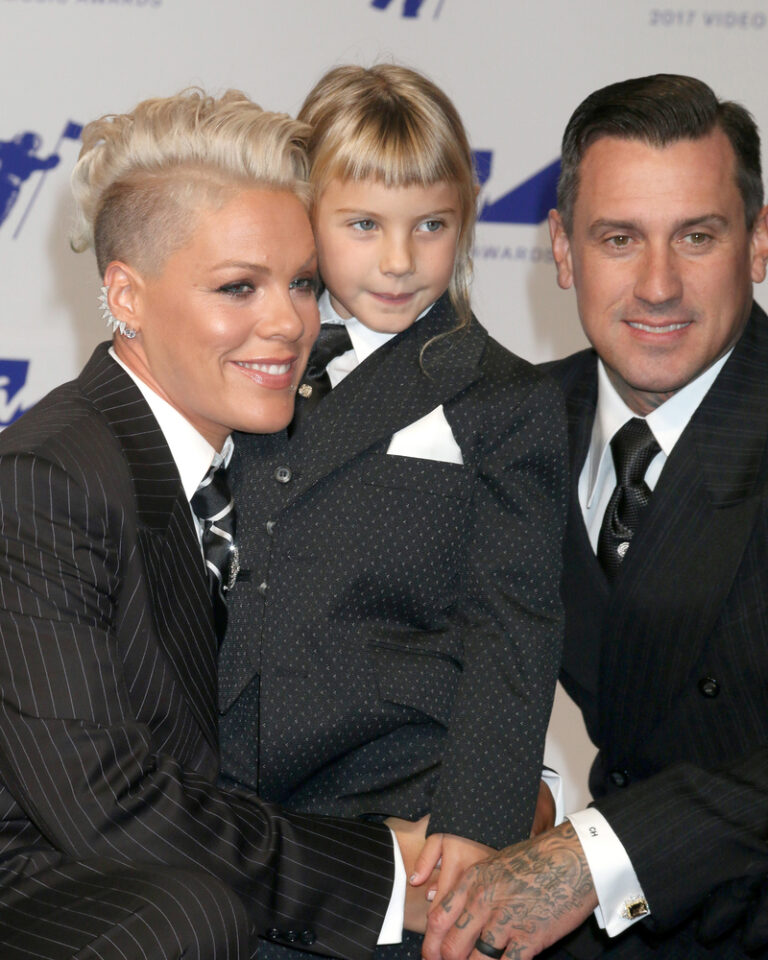 While technology can offer numerous benefits, it's crucial to consider both its positive and negative impacts. For young children especially, cell phone usage can bring about challenges. Research points to potential drawbacks such as mental health concerns, the risk of encountering harmful content, and the dangers of cyberbullying and online predators. Parents need to weigh these factors when deciding on tech guidelines for their families.
Certainly, cell phones can have their benefits, chiefly enabling children to keep in touch with their parents or other responsible adults, which can be particularly reassuring from a safety standpoint. If the primary intention behind giving a child a phone is to ensure their safety, experts suggest opting for a device with restricted functions, thus granting the young ones the ability to call, message, and take photos without exposing them to potential dangers online.
What do you think of Pink's parenting choice to withhold a cellphone from Willow? How do you feel generally about children having access to cell phones? We'd love to hear your thoughts on this topic.