Randy Travis is really talented and has a unique singing voice. Unfortunately, he had a stroke a while back, but that didn't prevent him from performing a lovely rendition of "Amazing Grace" to pay tribute to George Jones, another popular country music artist.
Travis performed at the Grand Ole Opry with blue and purple lights shining behind him. During his performance, he honored the recently deceased George Jones. Some of his peers, such as Alan Jackson, Vince Gill, and Travis Tritt, also joined him on stage.
View this post on Instagram
Travis experienced a difficult stroke, and his wife, Mary, spoke publicly about how supportive fans have been during this challenging time.
In July 2013, Randy Travis was rushed to a hospital in Dallas due to complications from viral cardiomyopathy. He suffered a stroke, underwent brain surgery, and fell into a coma. Doctors gave him a low chance of survival, estimating that he had only a 1 or 2 percent chance of making it. Because of this, the doctors did not think it was worth trying to keep him alive.
Mary Davis Travis was faced with a difficult decision regarding her husband's life support. The doctors asked her what she wanted to do, and she could have chosen to turn off the machines and let her husband pass away peacefully. However, Mary decided to go against the norm and take a different approach.
Although the experts believed that her husband had a very low chance of survival, Mary believed that he was a fighter and refused to give up on him. She prayed for a miracle and refused to turn off the respirators.
"I prayed hard, 'God, please let me have him back, any way, shape or form,'" May recalls saying, as per USA Today.
Despite being surrounded by wires and in a comatose state, Mary never contemplated turning off the machines that were keeping her husband, Randy, alive. Randy's condition had reduced him to just skin and bones. However, one day, an extraordinary event occurred – Randy woke from his coma.
"We're blessed. We're happy to be where we are. We don't know what God has in store for us at the end of this recovery. Right now, we're just thankful to be where we are, and we're singing a different song," she said. "We're happy to serve a purpose wherever there is a purpose for us to serve. Of course, one day he would love to be back up on that stage. Right now, we're just enjoying life, and are very blessed to be where we are."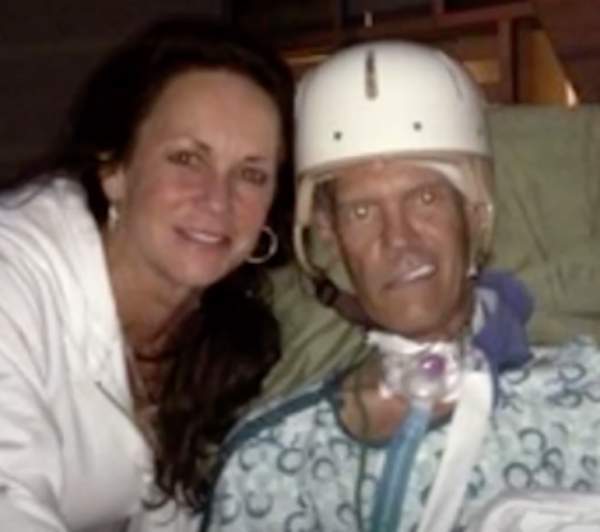 Randy had a stroke that left him unable to walk, but he has been making progress and can now walk on his own for shorter distances. He worked hard to regain his ability to walk and was honored in 2016 by being inducted into the Country Music Hall of Fame.
Travis seems to have put in a lot of effort and hope into getting back to the same level of skill he had before, despite still dealing with aphasia.
Check out his recent performance below and let us know your thoughts.