Shiela Weisgerber is a remarkable woman. In 2016, the 54-year-old grandmother was working as a waitress while also serving as the main caregiver for her daughter's triplets, who were just two months old.
Her daughter, a single mother with another child, was struggling to take care of the three babies on her own.
Despite her own difficulties, Shiela never considered leaving the boys to another family and instead, they learned to make it work as a family with less money but more love.
Shiela was so proud of her grandsons that she often talked about them during her shifts. However, one day her bragging took an unexpected turn and she ended up crying in the bathroom.
Her daughter, a 30-year-old single mother, was expecting triplets and was having difficulty caring for them, and the boys' father had passed away before their birth.
Thankfully, Shiela stepped up and became the main caregiver for the boys, raising them with love and warmth. "At first it was very overwhelming," she stold ABC News. "And, at first I thought I bit off more than I could chew."
Today, the three 10-year-old boys are lucky to have Shiela as their grandmother. Despite her job as a waitress with a low salary, she still manages to take care of the boys. Shiela knows that love and safety are the most important things for kids, and she has plenty of both to give.
One day, a couple came into the bar where Shiela worked and was moved by her hard work to give her grandsons a good life.
They left a message on their bill saying "Take care of those boys!" along with a generous tip of $300 on top of their $33 tab. Shiela was shocked and emotional and took a picture of the receipt and posted it online.
"I looked at it, and I looked at it again. You read stuff about it, and you hear about it, and you wonder, 'Is that really true? Do people really do that?"
"I went to the bathroom and I cried and I was blown away because to me that's a lot of money."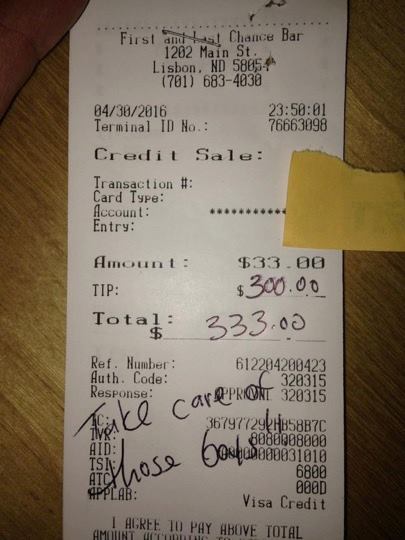 Shiela's story quickly spread on the internet, inspiring the whole community and bringing positivity to everyone, even in tough times.
The owner of the local bar, Dave Cole Jr., spoke about how the community had recently been hit by several unexpected deaths, but this act of kindness came just in time to give everyone a much-needed boost of positivity and showed that there is still good in the world.
Let us know your thoughts about Shiela's story in the comment section below. Share this story with your friends and loved ones to inspire them.