On April 28, 2023, Aric Hutchinson and Samantha Miller began their married life together with a beautiful celebration near the Atlantic shoreline. The couple danced under the stars, creating cherished memories with friends and family.
However, tragedy struck when the newlyweds were leaving their reception on Folly Beach, an island off South Carolina's coast. Aric and Samantha were hit by a drunk driver, which resulted in Samantha's death at 34 years old and left Aric hospitalized.
Two other passengers on the cart were also injured. Recalling her daughter's joy earlier in the night, Lisa Miller, Samantha's mother, shared that Samantha had wished the night could last forever, as it was the best night of her life.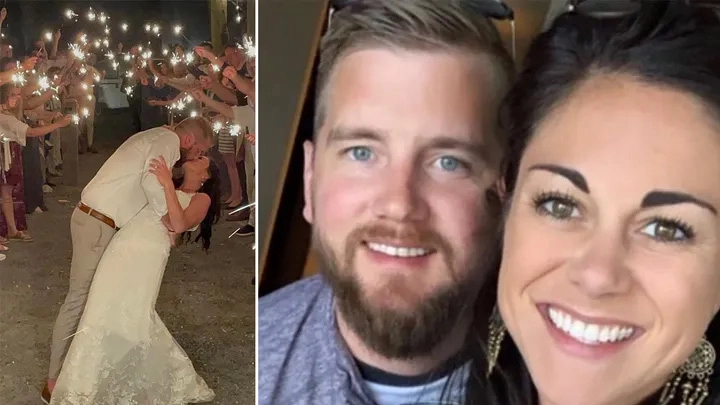 The Hutchinsons' special day took a devastating turn when they left their reception under a sparkling canopy, with Aric's relatives, Benjamin and Brogan Garrett, accompanying them in the front of a street-legal cart similar to a golf cart. The newlyweds sat in the back, excited for the next chapter of their lives. Tragically, they were only two blocks from their destination when 25-year-old Jamie Lee Komoroski crashed into the cart with her rented Toyota.
The Associated Press reported that data from Komoroski's vehicle revealed she was driving at 65 mph in a 25 mph zone and only briefly applied the brakes before colliding with the cart at around 10 p.m. on Folly Beach. Safety Department Director Andrew Gilreath confirmed that the cart was equipped with lights and legally permitted to be driven at night.
Earlier in the evening, the bride's mother had danced with her daughter to Bruno Mars' "Just the Way You Are." Later, she expressed her heartbreak to local media, explaining that the speeding driver had collided with her daughter at 65 mph while Samantha and Aric were on the back of the golf cart. Samantha's sister, Mandi Jenkins, shared that they had heard sirens from their balcony, growing concerned when they couldn't reach Samantha via text. They went to the scene and found a horrifying sight.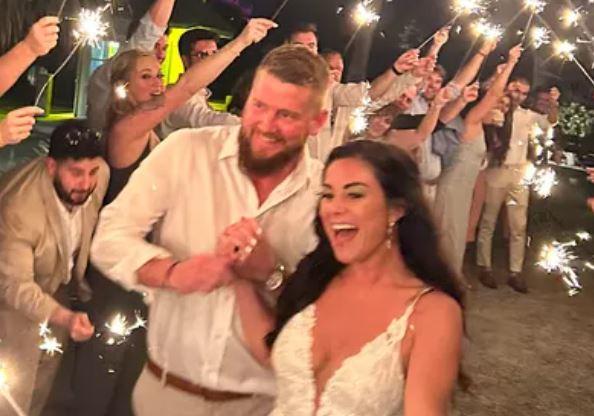 The impact of the crash had sent the golf cart flying about 100 yards, rolling multiple times before coming to a halt. The family's joyous celebration had quickly turned into a devastating nightmare.
The scene was described as a chaotic sight, with the golf cart on its side and multiple victims amidst the wreckage. Lisa, the bride's mother, was initially informed that her daughter had been taken to the hospital. However, she later discovered that Samantha had been identified at the crash site itself.
Samantha, still in her wedding dress, was pronounced dead at the scene. Aric was transported to the hospital with broken bones and brain injuries. Of the remaining passengers, one suffered severe injuries, while the other was listed in stable condition. The happiness of the wedding day was tragically replaced by pain and loss.
Police reports revealed that Komoroski appeared to be under the influence of alcohol. She admitted to having consumed one beer and one tequila about an hour before the incident. Officers observed her to be "very unsteady" and needing assistance to avoid falling. When asked to rate her impairment on a scale of one to 10, Komoroski said "eight." However, she refused to participate in a field sobriety test and became uncooperative. At the police station, she also declined to provide a breath sample. A warrant was issued to obtain two vials of blood, though the results are not yet available.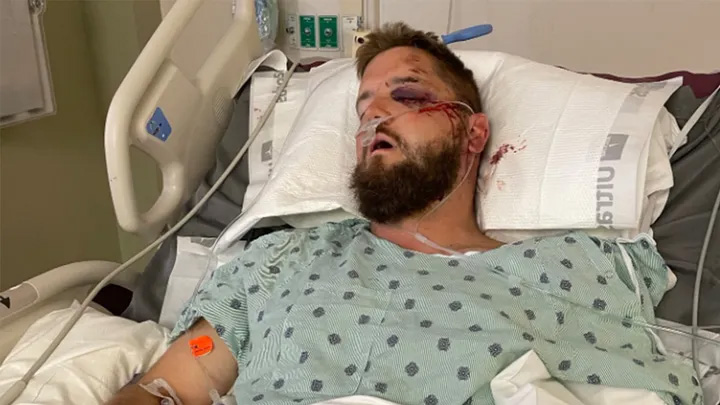 Komoroski faces charges of reckless vehicular homicide and three counts of driving under the influence causing death. If found guilty, she could receive a prison sentence of one to 25 years for each DUI count.
Two GoFundMe campaigns have been set up to support the affected families. Annette Hutchinson, Aric's mother, has organized one campaign to cover Samantha's burial costs and the medical expenses for her son, son-in-law Benjamin, and grandson Brogan. Annette shares that Aric is in serious condition and faces a long recovery. The campaign has already raised nearly $600,000, far surpassing its $100,000 goal.
The second GoFundMe campaign, which has raised almost $37,000 out of its $10,000 goal, has been organized by Samantha's sister, Mandi, to provide assistance to the family. Mandi remembers Samantha as fearless and excited to start her life with Aric, with the love between the couple evident on the beach that day. The tragic end to what should have been the beginning of their lives together is heartbreaking, and the thoughts and love of many go out to Aric and both families during this difficult time.