When you do something amazing and it goes viral, the internet has a sweet way of making you famous. Your good work is seen and experienced by everyone around the globe, some of which have a life-changing impact.
It brings to light those who are unknown, particularly by exposing their actions. We're talking about highlighting those individuals whose talents and skills may have gone largely unappreciated in the past.
The best platforms for this are Facebook, TikTok, and YouTube because they enable users to make sure that their happy moments are seen and treasured by a larger audience than they could have ever imagined.
You'll never hear 'Imagine' the same way again after you listen to Adam Kornowski's version. https://t.co/hNFsG8PHjb

— USA TODAY Life (@usatodaylife) June 4, 2018
Adam Kornowski, a fourth-grader at Lakeside Elementary School in Chisago City, Minnesota, made headlines after performing at a small neighborhood talent show in 2018.
He sang a well-known classic and was upbeat, hoping that the audience would enjoy it. An observer would say he appeared destined to become an online sensation almost immediately.
Adam, who was ten at the time, had apparently been playing the piano since he was five.
He decided to put his abilities to the test in a little talent contest at his local school, performing Imagine by John Lennon.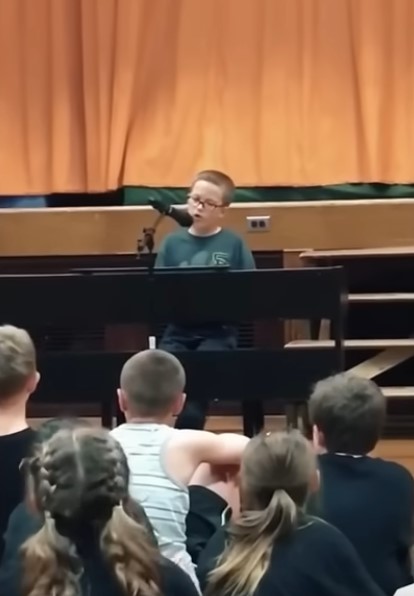 Now, I think we can all agree that "Imagine" isn't really a song for beginners to try their luck with, despite being an undeniably amazing song.
The legendary song, which was first played in 1971 and quickly rose to renown around the world, promoted the idea of global harmony without national boundaries or religious intolerance.
When we discuss stage fright, singing the song in front of a live audience, at the age of ten is no small accomplishment.
However, Adam was adamant about giving it a shot, and we are incredibly grateful that he did. Incredibly impressive for such a young man, he made the name of Lakeside Elementary School so powerful, leaving the audience in awe.
He made his mother happy, and all the parents in the room shed tears of joy as they congratulated him. Michelle, the boy's proud mother, was no exception and was praised on Facebook. He was given a standing ovation, and they never stopped applauding!
Below, you can watch the breathtaking performance.