When eighty-nine-year-old Margaret Hubl from Nebraska passed on, her loved ones had no idea how much time she had spent quilting for them. The evidence of her amazing skills was on display at her funeral.
Hubl had made over a hundred quilts in her lifetime as per Christina Tollman, her granddaughter. During her funeral, her friends and family were asked to bring the quilts gifted to them by Hubl to serve as a visual reminder of her artistry and her love for her family.
"Never did I imagine how many there were. We covered almost every single pew in that church. I never knew how many she actually made," Tollman told TODAY.
Hubl began sewing many years ago. She would make clothes for her three children as well as the niece and nephew—she and her husband, Henry, took in after they lost their parents in an accident in 1969.
The couple enjoyed traveling the world together. They raised five children in their modest farmhouse and went on to have thirteen grandchildren before Hubl passed.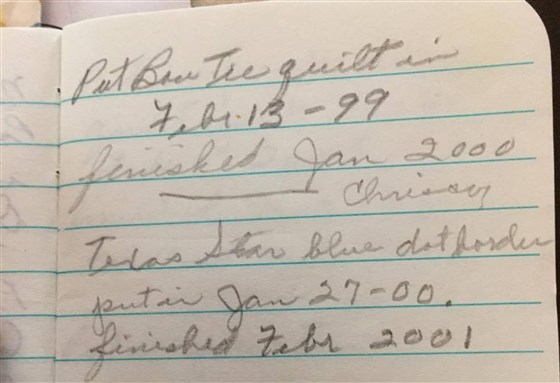 While clearing out her house, her children and grandchildren discovered a journal with names and dates listing all of Hubl's quilting projects in an organized manner. "When we sat down to go through her things we found this — I call it a pocket notebook. Inside it says whose quilt she was working on, what day she put it in the quilt frame, and which day she took it out," said her granddaughter.
The most common occasions for gift-giving were high school graduations and weddings and it appears there were projects that were still ongoing. Even though not everyone had received their quilt yet, she had them planned out and was even hanging onto some that she had finished as she awaited the right moment. "She wanted us to have something to wrap up and keep warm in when we went away to school," Tollman said.
Her granddaughter said that her funeral ceremony was a moving moment for those who never knew they would eventually get one of Margaret Hubl's famous family quilts."I actually have three cousins that are not married, and the day of her funeral was the day that they got to see their quilts for the first time," she said. "That was really kind of a neat moment."
The quilts' display was a lovely way to honor this talented and devoted matriarch's life. And those quilts will endure for decades as a token of love from grandma.
It seems grandma's thoughtful gifts had exactly the desired effect she would have hoped for. Her family and loved ones recalled the many times they wrapped themselves up in theirs, bringing back priceless memories of childhood or other special occasions.