A 75-year-old man from Holbrook, New York, named Richard Riggs, passed away in a car accident on the Southern State Parkway. The sad twist is that his wife and daughter saw the crash scene while they were out driving. The accident involved a car that had been stolen.
Carol Riggs and her daughter experienced a heart-wrenching moment they'll always remember. While driving on the parkway, they saw a crash, and her daughter noticed something familiar. She said, "Oh my god, that looks like Daddy's car."
Panicking, they tried to confirm it by checking the license plate number. As her daughter read it out, she screamed in realization, "That's Daddy, that's daddy!" Sadly, due to heavy traffic, they couldn't get close to the scene.
Carol Riggs, in a devastating turn of events, called her son-in-law to confirm if the crashed car was indeed her husband's. Tragically, it was. Her husband of almost 52 years had passed away in the accident, as reported by NBC New York. Remembering her husband, Carol shared with News12, "He was the kind of person that would have jumped out of his car, to help somebody in this situation. We lost a special man, we will never get him back."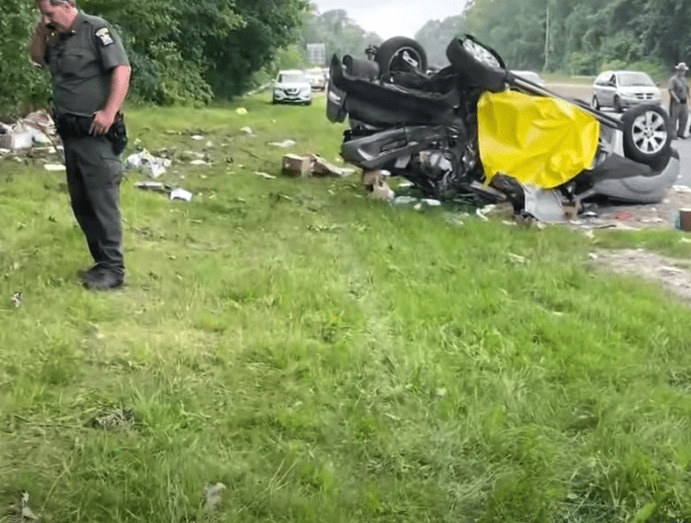 According to the police, the accident occurred when a white Jeep Grand Cherokee and a stolen Range Rover attempted to squeeze between two other cars, which included a Toyota Prius and Mr. Riggs' vehicle. This reckless maneuver resulted in Riggs' car colliding with a tree and flipping over, while the Prius smashed into a concrete barrier. Sadly, Riggs lost his life at the crash site, as reported by NBC New York.
After the crash, two individuals from the stolen Range Rover were spotted getting into the Jeep and escaping, as stated by the police and reported by News12. Mr. Riggs, a dedicated salesman, left behind a loving family that includes his wife, three daughters, and four grandchildren. Carol was deeply traumatized, unable to erase the image of her husband's upturned car from her mind.
The loss faced by the Riggs family is immeasurable, and it's truly heartbreaking. My deepest condolences go out to them. Richard Riggs deserves justice, and one can only hope that those responsible for this tragic event were swiftly apprehended and faced the consequences of their actions.