Being kind can sometimes feel like a thankless job, but it always pays off in the end. Kindness is a powerful tool that can open doors and create lasting relationships. It can bring us unexpected rewards and make us feel good about ourselves, so it's worth investing in. Kindness ultimately pays off in the end, so don't be afraid to show it.
A man who had been homeless for a long time had an amazing thing happen to him.
He picked up a wallet filled with money when he needed it the most, but ended up doing something that brings hope to humanity.
Daisy Owen, a 20-year-old woman, was having a good time in town, enjoying the nightlife as any other young person would when she lost her purse. She was devastated because her purse contained all of her essentials for survival. Her purse held cash, a wallet, IDs, and keys in addition to her pricey new iPhone.
Daisy believed her purse would never be given back to her. She was confident that someone had taken it and almost immediately decided to leave for home. But it turned out that this was not the case.
The homeless man picked up the bag and began to look through it. He discovered Daisy's possessions, including IDs, inside. He promised to help Daisy find her bag because he is aware of the suffering caused by losing valuables.
Paul, the helpful stranger, was aware that the public would suspect him of stealing the purse. To protect himself, he wrote a letter outlining the entire incident in order to return the purse as a blameless man.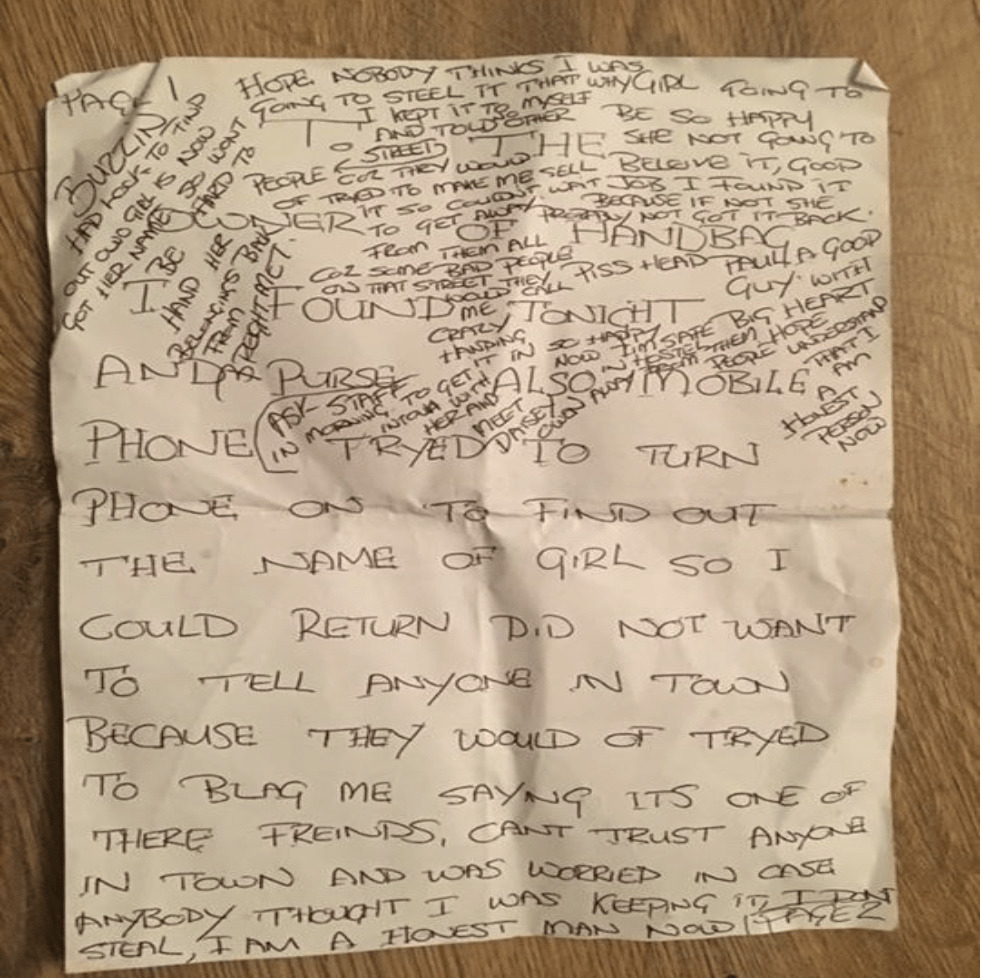 He wrote a note explaining how he found the bag and his desire to give it back to its rightful owner. He continued by saying he didn't let anyone know he had the bag because doing so would make it seem like he had stolen it. The fact that doing the right thing made him feel so happy was his sole driving force in returning the bag to Daisy.
He cautiously avoided letting them know that he was carrying Daisy's purse as he crossed the streets, asking nearly everyone if they knew her. He took these steps to make sure Daisy wasn't mistakenly claimed by anyone.
After spending several hours on foot in search of her without success, he decides to use her home address to deliver the bag back to her. It was truly miraculous that he met one of the young lady's friends before deciding to go to Daisy's house.
She was so familiar with Daisy that she informed her via Facebook that her purse had been found. Daisy was overjoyed to receive her purse, but she was puzzled as to why she had believed Paul would sell the iPhone and pocket the proceeds, when in fact, that was not the case.
"If I was in that position then I would have sold all of the stuff to improve my life – but Paul didn't," Daisy said. "My faith has genuinely been restored in humanity – it's amazing. He was still going hungry and on the streets even though he had my £10 note in the bag."
She made the decision to show Paul how much she cared by pledging to make his life better by planning a fundraiser to make sure he has a proper place to live, warm clothing, and food. Paul received $5000 from the online fundraising, which was very helpful to him.
Share this with others so they can learn about Paul's inspiring story and good deeds.