Actor and comedian Kevin Hart had an experience that changed his view on aging. Despite recently celebrating his 44th birthday and always feeling young at heart, he faced an unexpected incident. Kevin has taken to social media to share his experience and alert his fans about the realities of getting older.
Kevin Hart recently shared a message on social media about the realities of aging, saying, "Age 40 is real." Warning his followers, especially those 40 and older, he emphasized the importance of respecting one's age. Hart revealed he is now using a wheelchair because he tried to do something he considered youthful, only to be reminded of his age. The comedian humorously added that he was essentially told to "sit down" by the consequences of his actions.
Kevin Hart's recent warning about respecting age came after a challenging athletic event with former New England Patriots player, Stevan Ridley. The two had a friendly debate about who was faster, with Hart jokingly boasting about his speed. Despite Ridley's background as an ex-NFL running back, Hart took on the challenge to race him in a 40-yard dash. Unfortunately for Hart, the race didn't go as planned, leading to his recent reflections on age and his humorous message to fans.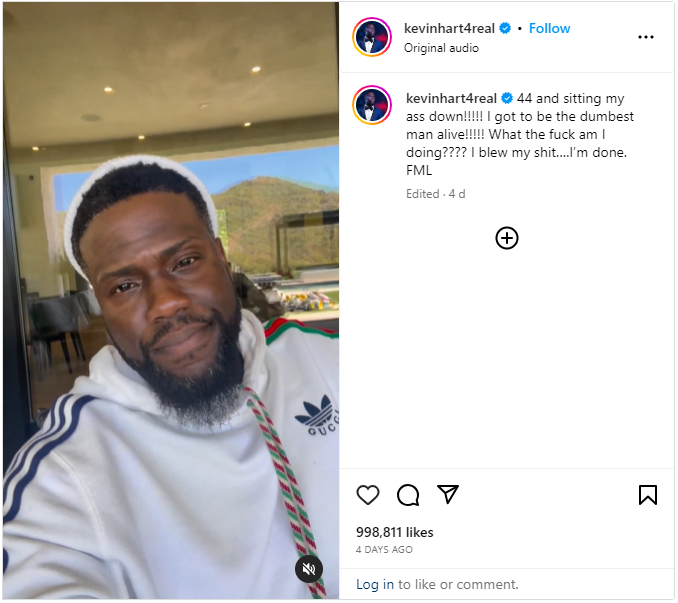 "Guys, I blew all my s**t," Hart revealed, before he went on to give details about his injuries. "I tore my lower abdomen, my abductors are torn, I don't know what that is but I tore them, I tore those, too. I can't walk."
"What are we competing for at this age? What am I doing? Why did I even race? Stupidest s**t ever, now I can't walk," Hart said. "What was I thinking, son? I've got to be the stupidest man alive."
Kevin Hart humorously expressed his regret in a video caption, writing, "44 and sitting my ass down!!!!! I got to be the dumbest man alive!!!!! What the f**k am I doing???? I blew my s**t….I'm done. FML." In support, fellow actor Will Smith responded, "Getting older is REAL!! Heal Up, Kev!!" Meanwhile, Stevan Ridley, the ex-NFL player who raced Hart, shared the video and playfully commented, "I saw @TomBrady do it at your age so I figured you had the juice too big bro!" Both celebrities and fans rallied around Hart, offering words of comfort and humor.
After their race, Stevan Ridley showed his concern by apologizing to Kevin Hart, saying, "My bad @KevinHart4Real! Heal up and keep making us all laugh!" This isn't the first time Hart faced a serious injury. In 2019, he had a severe car accident, resulting in three spinal fractures and an emergency surgery. He endured ten days in the hospital and several months of recovery. With Kevin Hart currently facing another setback, he remains surrounded by support and well-wishes. We hope for his speedy recovery and encourage others to share their support for the beloved comedian.