It's common for kids to look up to someone while growing up. This could be a family member, friend, teacher, or even a celebrity.
Having someone to look up to can provide a sense of guidance and inspiration, and may also help us develop our own sense of identity.
Easton Blocker, then kindergartner at the Jacksonville North Pulaski School District, appears to have had a great deal of respect and awe for Officer Jefferey Cross, who ensures his safety while he attends school.
In 2020, on "Dress As Your Favorite Person Day," Easton showed everyone at school just how he felt about the school security officer.
In fact, he showed up that day dressed as the school security officer. Officer Cross wore a yellow shirt, black pants, and black shoes, so he attempted to wear an identical outfit.
The junior security guard of his school took great pleasure in announcing to everyone that Officer Cross is his hero. "He's infatuated with Officer Cross. He will tell you, 'That's my best friend!'" His mom, Lauryn, told Good Morning America.
The deep respect and admiration Easton has for Officer Cross was evident and felt by his mother. So she went out of her way to buy her son a costume to show her support for him at the upcoming event.
She even put vinyl letters reading "Junior Security" onto the back of the yellow shirt. "For someone who my son looks up to so much I'm going to say, 'Hey, this is how much he adores you,'" Lauryn added.
Officer Cross who is also a parent was deeply touched by the gesture. "Most of the scholars are expected to dress as their teachers or fellow classmates. Easton, ever since the first day of school, he comes up and hugs me. He's adorable. He has a very fun, high-spirited personality," he told GMA.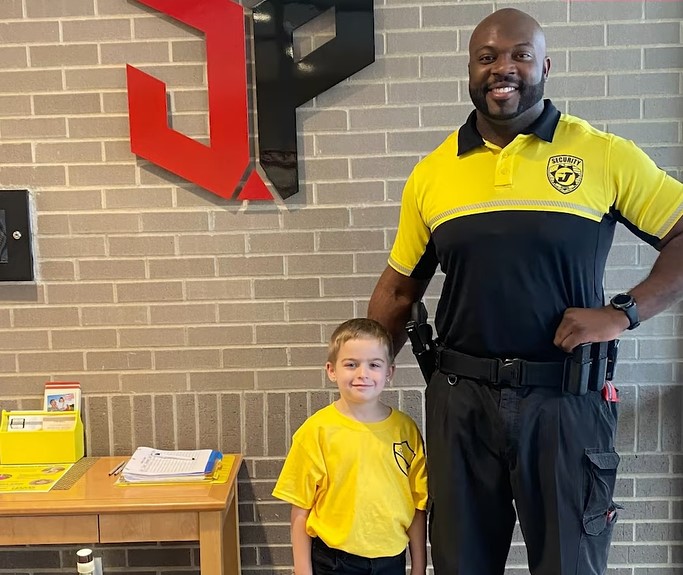 The innocence of a child is, without a doubt, one of the most selfless gestures of compassion we will ever see in this harsh world. Easton isn't impressed by the superheroes shown in popular media—Instead he's impressed by the work that Officer Cross has done to ensure their safety at school.
Officer Cross admitted he appreciated his work more after witnessing the positive effects it had on the kids. "It makes me appreciate my job more." He told THV11.
The school took it to Facebook and share a beautiful photo of Easton and Officer Cross standing side by side—and the photo is so adorable.
Let us know what you think about this story in the comment section.
Article Sources: GMA