People who watched The Patty Duke Show often saw the same face twice.
From 1963 to 1967, Patty Duke played two look-alike cousins on this famous TV show. Back then, she was the youngest to get an Academy Award. This show helped her become big in entertainment, and she even became a popular singer.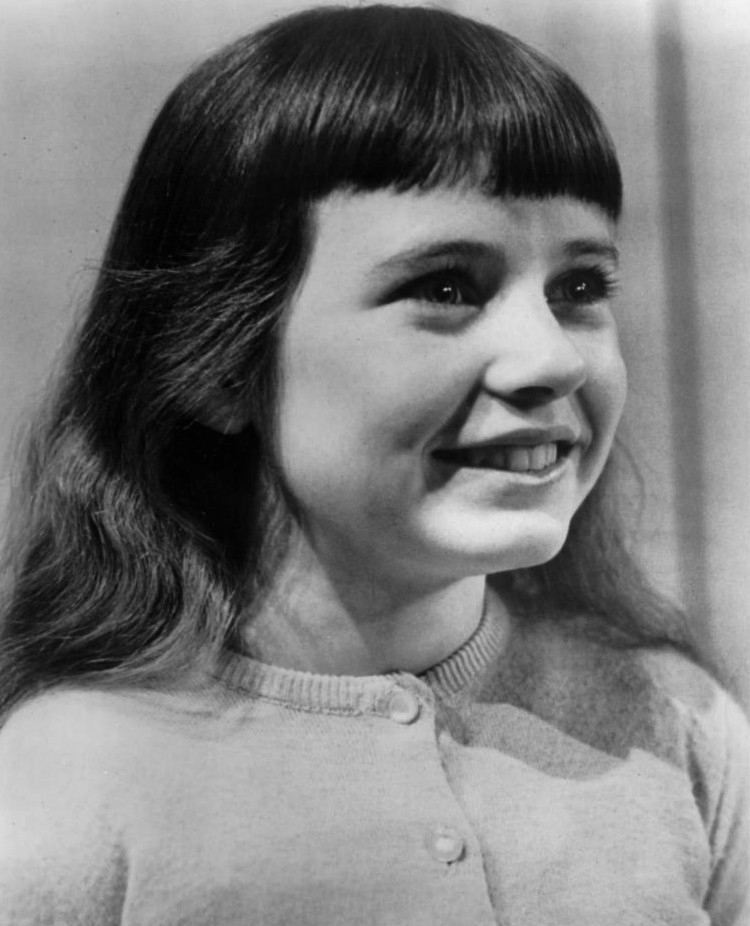 Duke achieved a lot in her career. She got an Academy Award, two Golden Globe Awards, three Primetime Emmy Awards, and a special place on the Hollywood Walk of Fame.
When she was young, Duke started in Hollywood by acting in a soap opera called The Brighter Day. She then went on a game show called The $64,000 Question. Some people said she didn't really win her $32,000 prize, but her fame kept growing.
In her early career, Patty Duke acted with the famous Anne Bancroft in a Broadway play called The Miracle Worker. Later, in 1962, they made a movie based on this play. In the movie, Duke played Helen Keller and won an Academy Award for Best Actress at just 16 years old.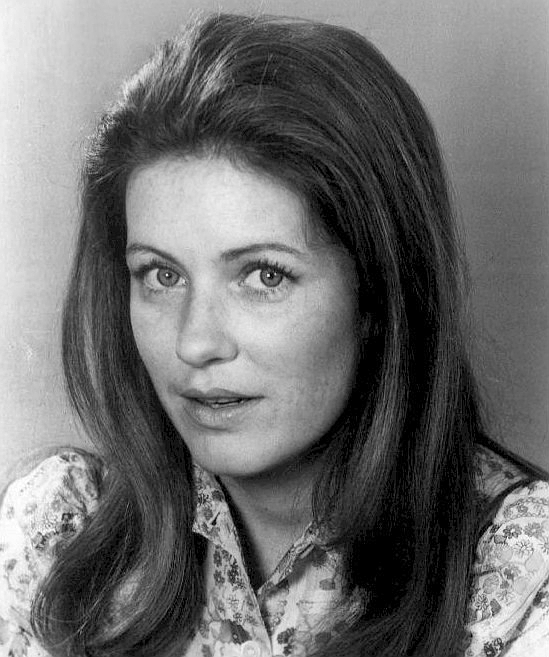 Duke once said, "I had many, many, many fears and obsessive fears as a young person, and maybe I was incorporating them into that role. And I do know for a fact that the role was very therapeutic for me…"
Then, she worked with great actors like Laurence Olivier and George C. Scott in a TV version of The Power and the Glory.
Sidney Sheldon, who also made I Dream of Jeannie, noticed her talent. He created a show just for her, with characters designed to match her real personality.
The Patty Duke Show was about two twin cousins. Patty Lane was lively and Kathy Lane was smart and classy. In the second season, there was a new character, Betsy, making them like triplets. All three were played by Patty Duke.
View this post on Instagram
Duke mentioned in 1988, "For its genre, it was quite a lovely little show. And they were nice people, and they weren't saying nasty, hideous things to each other all the time. And I kind of miss that element of a family show."
Back then, Duke hadn't found out she had bipolar disorder. However, Sheldon made the twin characters because he saw Duke's different personalities. Before she knew about her condition, Duke felt like she was stuck in a "deep black hole" she couldn't get out of.
Patty Duke, diagnosed with bipolar disorder, bravely spoke about her experiences and became a voice for mental health. Even with the challenges she faced in Hollywood when she was young, she chose to help others with her story.
Duke was a determined and powerful woman. Her impact is still felt today.
Her son, actor Sean Astin, continued her mission of raising mental health awareness. He started The Patty Duke Mental Health Initiative in her memory.
View this post on Instagram
Sean Astin is famous for movies like The Goonies, Rudy, and Stranger Things. He's also known for playing Samwise Gamgee in The Lord of the Rings movies. In the third movie of the trilogy, his real daughter, Ali Astin, acted as his character's daughter, Eleanor Gamgee.
Ali Astin, after graduating from Harvard, is making waves in the acting world and garnering attention from fans.
Her grandmother, Patty Duke, remains an icon. Even after her passing in 2016, she's remembered by many for her timeless elegance.
It's often said that Ali bears a strong resemblance to her "nana", Patty Duke. This likeness is something Ali acknowledges and cherishes.
On what would have been Duke's 71st birthday in December 2017, Ali shared a touching memory on social media. She posted two photos side by side: one of her and one of her grandmother. The caption was a heartwarming message from Duke, which was the last text Ali ever received from her. It read: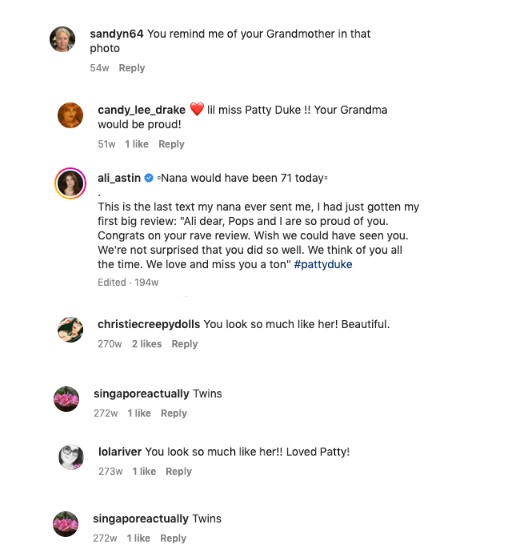 "This is the last text my nana ever sent me, I had just gotten my first big review: 'Ali dear, Pops and I are so proud of you. Congrats on your rave review. Wish we could have seen you. We're not surprised that you did so well. We think of you all the time. We love and miss you a ton.'"
Fans were quick to point out the resemblance between Ali and her grandmother, Patty Duke. Many commented on how much they looked alike. Some reactions included: "You look so much like her. Beautiful," and "Twins."
Ali, following in the footsteps of her family, has acted in movies such as Bad Kids of Crestview Academy (2016) and Apocalypse Society (2017). It seems acting is in her genes. Apart from Patty Duke and her dad, Sean, her mother is Christine Astin, recognized for her Oscar-nominated short film, Kangaroo Court. Plus, her granddad, John Astin, was the famous Gomez in The Addams Family TV show from 1964. Her uncles, Mackenzie Astin and Ray Duke, have also made their marks on screen.
Recently, Ali's Instagram photos stirred emotions among fans who remembered her grandmother. They commented with loving messages like, "Lil Miss Patty Duke!! Your grandma would be proud" and "You remind me of your Grandmother in that photo."
It's heartwarming to see Patty Duke's legacy alive in her family. If you're also moved by this story, share it on Facebook.