The recent months have been extremely challenging for those close to famed actor Bruce Willis. The renowned artist, revered for his acting prowess, has been grappling with significant health setbacks.
In March 2022, Willis stepped away from his acting career after a diagnosis of aphasia, a language disorder that impacts communication.
Sadly, Willis's health continued to decline as his aphasia evolved into a more severe neurological disorder known as frontotemporal dementia, an incurable degenerative brain condition. Since this revelation, Willis has chosen to step back from public life. Nevertheless, some snippets of his life and experiences have been occasionally shared by his closest family members on their individual social media platforms.
Witnessing Bruce Willis's health battle firsthand is an ordeal for his family, especially his wife Emma Heming Willis and his daughters Rumer, Scout, and Tallulah. Emma has assumed the responsibility of caregiver, while his daughters have openly expressed their distress.
Despite these trying times, they continue to find occasional flickers of joy, illuminating even the darkest corners of their struggle. Recently, Rumer Willis shared a touching moment on social media. She posted a photo of Bruce with his two-month-old granddaughter, Louetta Isley.
The Father's Day photo collection included Bruce tenderly holding little Louetta, and a proud family picture of Bruce, Rumer, and the baby together. These images underscore the powerful bond between the family, reminding us of the resilience of the human spirit.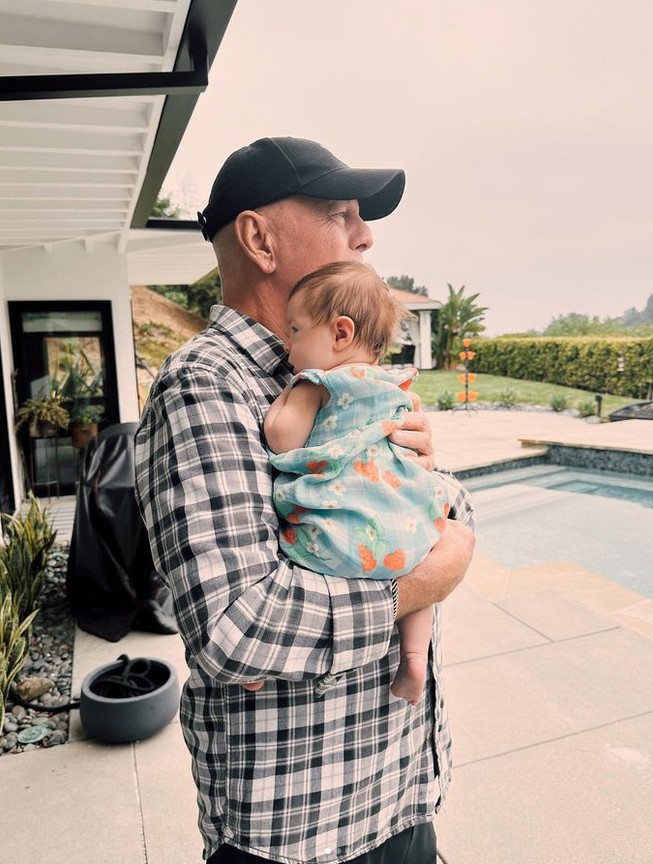 Rumer's social media post, which featured Bruce cradling his granddaughter, was accompanied by a heartfelt caption. She expressed that witnessing her father holding her child is a memory she will cherish forever. Rumer praised Bruce's genuine love and kindness towards his granddaughter and expressed her gratitude for having him as a father. She celebrated him as an incredibly loving and cool 'girl dad'.
The past Sunday was particularly poignant as it was the first Father's Day since Bruce's dementia diagnosis. Emma Heming Willis, Bruce's wife, and his former wife, Demi Moore, also paid tribute to the 'Die Hard' actor.
Bruce Willis's recent Father's Day must have held particular importance, especially given the recent birth of his first grandchild, Louetta Isley. Before Louetta's birth, Rumer shared with People Magazine that the entire family, including her parents and sisters, were thrilled about the new arrival. She emphasized the excitement of welcoming the first grandchild into their large and close-knit family.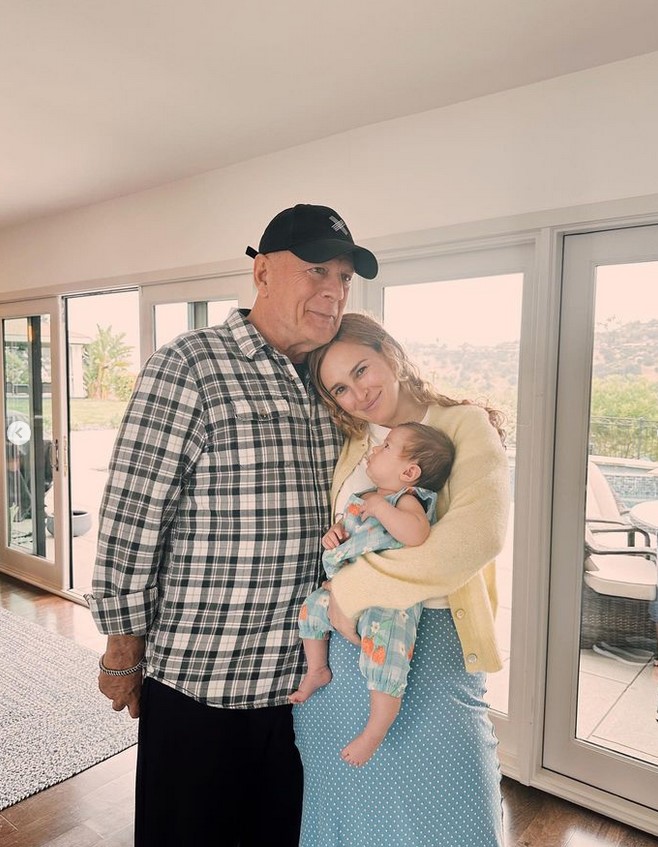 However, the most recent updates regarding Bruce's health are not encouraging. His wife, Emma, aged 44, provided an update last month about his condition, characterizing his treatment possibilities as "limited". This statement suggests a challenging journey ahead for the revered actor and his devoted family.
Emma, in her conversation with The Sun, shared the harsh reality of living with dementia, acknowledging the limited treatment options available. However, she emphasized the power of resilience and the potential for change, underlining the beauty she witnesses in this struggle.
We extend our best wishes to Bruce Willis as he continues to fight his health battle. Despite the steep path ahead, his bravery and resolve inspire many. Please join us in supporting him and his family during these challenging times.
Rumer's heartwarming Father's Day post has touched many hearts. If you also find it endearing, we encourage you to share this story with others on Facebook.