If you're a parent, you'll probably encounter a situation where your child doesn't want to attend school at some point. In most cases, kids outrightly refuse to attend school for no apparent reason.
However, one parent who allowed his child to miss school now owes his child a debt of gratitude after she ultimately saved his life.
Kyle Semrau, a father of two, granted his daughter's request to skip school because she missed her father so much. Macie is six years old, and Caleb is four years old. The father made the decision, but he was unaware that it would ultimately save his life.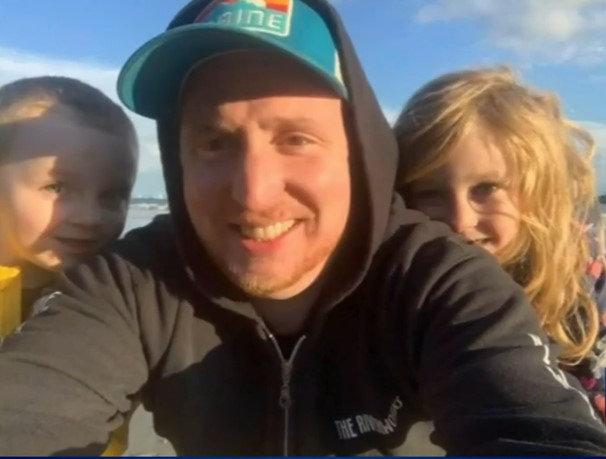 Semrau had a persistent sinus and lung issue, so when he got home from his night job that day, he was feeling under the weather—he decided to stay at home with his two kids while his wife went to work.
Later that morning, his condition worsened. Semrau struggled to breathe and lost consciousness. At one point, the father of two regained consciousness and called for help. Thankfully, his daughter was nearby. Macy immediately stopped whatever she was doing and rushed toward her father. When she arrived, her father was lying in his bed unconscious.
When Semrau regained consciousness, Macie asked him for his phone password. Once she was able to unlock the phone, she googled: "Elliot Poliz."
"I pressed this button and typed Eliot Police, and I hit call. I don't want to say this, but I thought he was going to die," Macie said.
Judy Smith from the Eliot Police Department received the call from Macie. Smith said that Macie knew everything about her parents, including her home address, her father's age and name, as well as how police could get to her father, who was resting in the basement.
As the two kids waited for help to arrive, Macie unlocked the basement door and instructed her brother to close an upstairs door to keep the dogs at bay until help arrived.
The police arrived on time and rushed Semrau to Wentworth-Douglass Hospital, where he was admitted and treated for three days before he was allowed to return home.
Semrau thinks of himself as lucky to have survived the incident. If his daughter had gone to school that day, things could have turned out for the worse.
"Just incredible all around. I'm very lucky, obviously because of my daughter and son and the (police) response. It was quick, " he said.
The father of two encourages parents to teach their children about awareness. He believes that if he hadn't taught his daughter certain things she wouldn't have learned in school, the outcome could have been totally different.
Let us know what you think about this story in the comment section below.