A police officer from Northern Indiana demonstrated an exceptional level of dedication and compassion when he and his wife decided to adopt a new addition to their family.
Officer Bruce Faltynski and his wife Shelby, who reside in Mishawaka, Indiana, have opened their hearts and their home to a previously abandoned infant.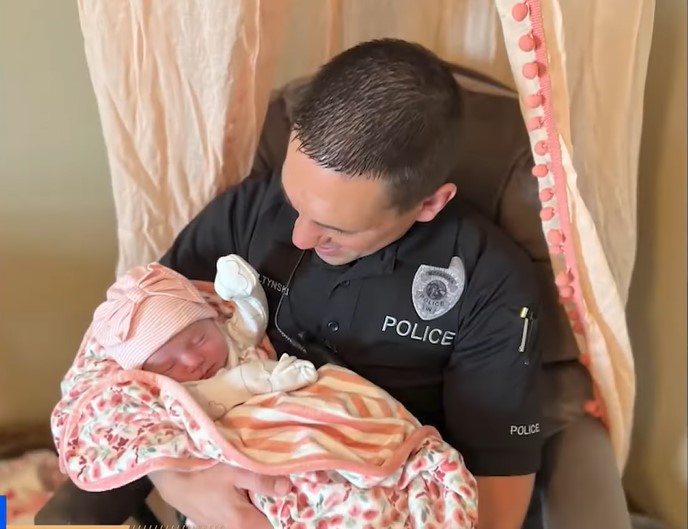 This child now has the love and support of not only her new parents but also an older sister. Their selfless act of kindness is truly commendable and serves as an inspiration to others.
Bruce and Shelby's hearts were filled with joy when they decided to bring the infant, Myah, into their home and add her to their family.
This decision came just a few months after Myah had been abandoned at a baby box at a northern Indiana firehouse. Unfortunately, Myah's beginning in life was not without its challenges. The medical team at the hospital placed her in the intensive care unit for children as they concluded that the baby had undergone a stroke.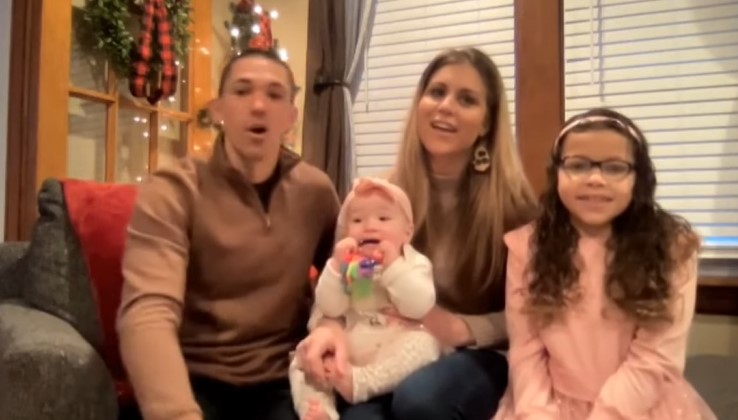 Despite these difficulties, Bruce and Shelby were determined to give Myah the love and care she deserved. Indiana's Safe Haven law allows people to anonymously drop off children no older than 45 days old without any legal repercussions.
This law provided a safety net for Myah and allowed her to be placed in a loving and nurturing home. Bruce and Shelby were grateful for the opportunity to provide Myah with a new beginning and a chance for a happy and healthy life.
The compassion and generosity of Indiana police officer Bruce and his wife Shelby is truly remarkable. Just months prior to receiving a call from social services, they had finalized the adoption of 8-year-old Kaia and welcomed her into their home.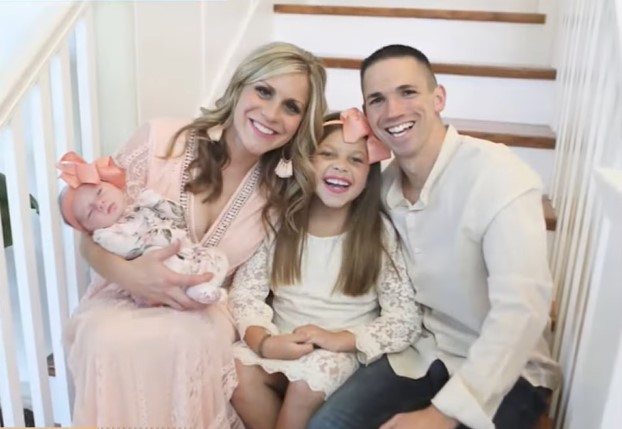 However, when they received a call that young Myah was in need of a loving family, they didn't hesitate to open their hearts and their home to her as well.
In an interview with Fox News, Bruce shared the story of how he and Shelby became the proud parents of two beautiful little girls. Their willingness to take on the responsibility of raising two children at once is a testament to their dedication and love for their new family.
"Our foster journey started with, we were just foster parents for Kaia. And when we had the opportunity to adopt Kaia after a year of fostering her, we went through the training to be foster-to-adoptive parents and through that training that's what allowed us to be on a list of, to be adoptive parents," Bruce said.
Brand-new big sister Kaia recently shared her experience with having a sibling. In photos that were shared, the 8-year-old can be seen lovingly doting on her infant sister. Kaia expresses her joy in being able to hold, feed, and play with her new sibling.
Shelby, the mother of the two girls, also shared her feelings toward the birth mothers of the girls. While holding her two adopted daughters, Shelby expresses nothing but love and admiration for the two women.
She expresses her gratitude for the two women who have given her the gift of her two daughters and states that both girls are blessed to have two mothers who love them and only want the best for them.
Myah had a difficult beginning, but her parents, Bruce and Shelby, are thrilled to report that she has made great strides in her recovery since her stroke. They are proud to see her progressing and behaving like any other child her age.
Let us know what you think about this story in the comment section below.