A lovely video is making people online feel happy and a little confused. In the video, a man is seen holding his big dog and also holding his little kid's hand. They are walking together. The video was taken by a lady named Luz Elena in Mexico. The dog looks happy and is sticking its tongue out.
Luz Elena shared the video on TikTok, a popular app, and called it "When your priority is your dog, not the child." It shows the dad, dog, and son crossing the street and walking down the sidewalk. People are talking about it and saying it's both sweet and funny because it looks like the dad cares a lot about his dog.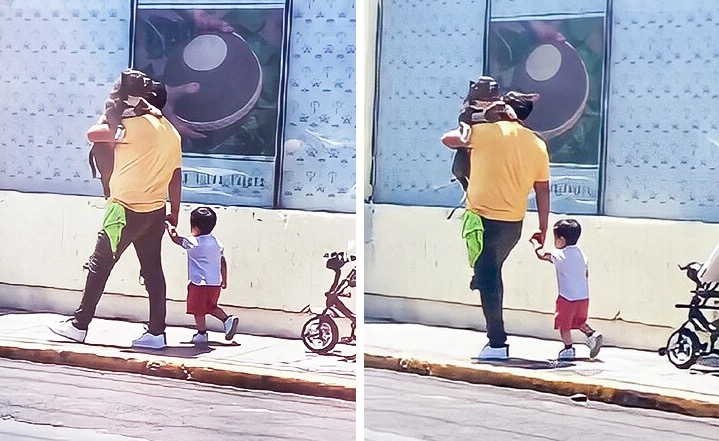 When the man, the dog, and the little kid get to the sidewalk, a woman comes up behind them. She's pushing a child's three-wheeled stroller that has a big box in it. People on TikTok are making guesses about why the man is carrying the dog. One person thought that maybe the kid's stroller was used by the mom for the box, so the kid had to walk.
Others thought that the ground might be too hot for the dog's feet, and that's why the man is carrying it. They said the little kid is wearing shoes, so his feet are okay, but the dog could get hurt. Someone said, "The puppy's legs are burning, and the child is wearing shoes so it's better to carry the puppy." Another person thought it was very kind of the man to carry the dog if the ground was hot.
Many people online are saying good things about the dad for carrying the dog. They think it shows how families today often include pets as part of the family, just like people. One person said the dad is showing a lot of care and responsibility for his pet and his child, and wished him many blessings.
Another person said they would do the same thing because the kid has shoes but the dog doesn't, and the ground looks hot. They also said maybe the child wanted to walk since his mom was there.
The video, which was posted by Luz over a year ago, is still very popular and has been watched about 4.7 million times. It's really sweet to see the dad showing love for both his dog and child. It's great when people treat animals with kindness and love. What are your thoughts about what this dad did?