Tony Bennett was a person who lived and loved New York City. He spent most of his life there. You could often see his beautiful home in Manhattan in pictures on his social media.
Tony Bennett was a very popular singer for a very long time, more than 70 years, before he passed away on July 21, 2023, when he was 96 years old. Lots of people all over the world loved his music.
Tony, who sang the famous song "I Left My Heart In San Francisco," was sick with Alzheimer's disease since 2016. Not many people knew about this at first. Tony spent his last days in his favorite place – his New York home. This home was special because it had his art studio and it was the place where he had his last interview.
View this post on Instagram
In his last years, Tony Bennett's wife, Susan Benedetto, took care of him after he got sick with Alzheimer's disease. Sometimes, Tony would get confused and ask his wife, "What is Alzheimer's?" Even though Susan would explain, Tony couldn't really understand. He would say, "Susan, I feel fine," because he still felt good physically.
Even though Tony was sick, he stayed strong because he was still in good physical shape. He even made a music album with Lady Gaga. While recording the album, Tony stayed happy and positive, even when he forgot some words, which was a small mistake.
Tony Bennett spent a lot of his time in his wonderful apartment during his last years. His home was in a tall building that looked over Central Park, on the 15th floor. His home had three bedrooms, a big kitchen where he loved to cook, and a cool room just for entertainment. There was also a room for work, bathrooms, and other things.
View this post on Instagram
His home had really big windows all over the walls that let in lots of sunlight. These windows also let Tony enjoy the beautiful views of the park and the tall buildings of New York without having to leave his home.
Tony turned one of the bedrooms into a special room for making art, like a studio. This studio was a special place for Tony, who had won many Grammy awards. He hung his drawings on the walls, and you could see things like paintbrushes and tubes of paint scattered around the room.
In 2015, Tony Bennett shared with the New York Times that he really liked to paint. He had a big stand for his canvas, called an easel, next to a window with an amazing view of Central Park. He said that he preferred seeing nature instead of buildings, because nothing was stronger than that.
Tony also loved to spend time in his kitchen. The kitchen had light yellow walls, wooden cabinets, and a big table for eating. He often shared pictures and videos of his time in the kitchen on social media.
Tony's living room had wooden floors, big white couches, and a huge mirror that went from the floor to the ceiling. The most important thing in the living room was a big, black piano. Tony loved to play this piano for many hours.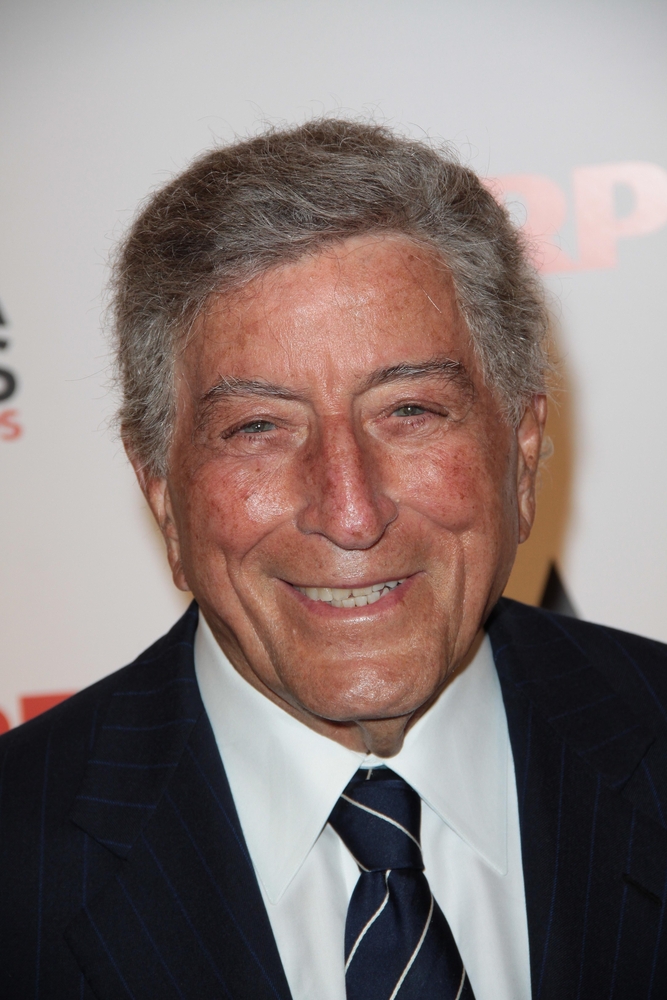 Tony Bennett didn't tell people right away when he found out he had Alzheimer's disease. When he was 94 years old, he told his fans that he had been living with this sickness for four years. He had decided to keep it a secret when he first found out in 2016.
Usually, when someone has Alzheimer's disease, they start to lose their memory and it gets hard for them to talk. Luckily, Tony Bennett's sickness wasn't too bad.
In February 2021, Tony, who was 94 years old at the time, and his family told everyone that he had Alzheimer's disease. He had kept it a secret for four years, since he found out in 2016. He shared a message on Twitter that said, "Life is a gift – even with Alzheimer's."
Tony Bennett thanked his wife, Susan Benedetto, for taking care of him after he found out he had Alzheimer's disease. He met Susan when he was in his 60s and she was in her 20s. They got married 20 years after they met.
Susan was a big fan of Tony's music because her mom also loved his beautiful singing. When a sickness called Covid-19 spread around the world, Susan decided they didn't need their helper anymore. This meant Tony needed his wife's help even more.
Susan made sure not many people visited Tony so he wouldn't catch the virus.
When Tony Bennett passed away, it made everyone who loved his music very sad. We will always love and miss you, Tony Bennett. Please share this story with other people who love his music so they can learn more about his last few years.