Followers of the popular Netflix series "Stranger Things" received exciting news this week. The show's star, Millie Bobby Brown, who plays the role of Eleven, suggested that she may be engaged to her boyfriend, Jake Bongiovi. The pair, who are aged 19 and 20 respectively, have reportedly been dating since 2021.
Jake Bongiovi might seem familiar to some due to his striking resemblance to his father, the renowned rock musician Jon Bon Jovi. He is the third eldest child of the music icon.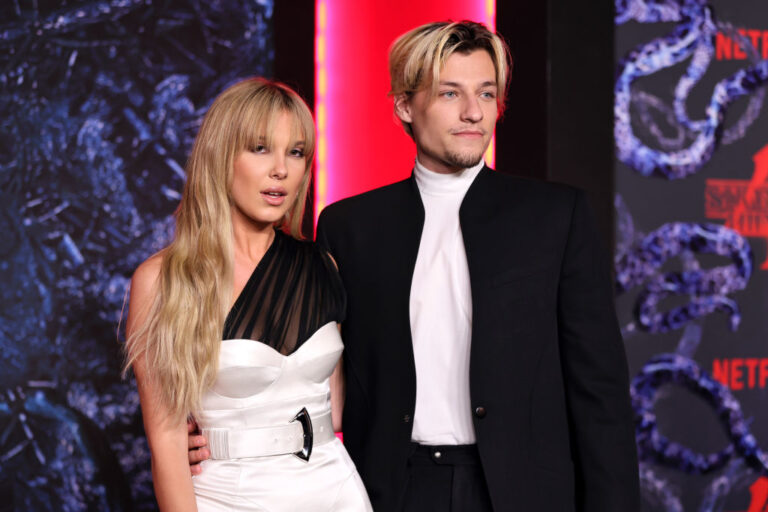 The news of the young couple's possible engagement has drawn varied responses from fans. A significant number have expressed concerns, deeming Brown too young for marriage, considering many have seen her grow from a child to a young adult through her role in "Stranger Things".
The young couple seems utterly in love with each other, judging by their recent social media posts. Jake Bongiovi posted pictures of them together on Instagram, tenderly captioning it "Forever 🤍". Likewise, Brown uploaded a photo of her own, adorning it with lyrics from a Taylor Swift song: "I've loved you three summers now, honey, I want 'em all."
View this post on Instagram
In a past interview with Wired in November, Brown disclosed that she first connected with her now-fiancé via Instagram. She recounted, "We met on Instagram, and we were friends for a bit, and then, what can I say?" The pair made their first public appearance as a couple at the 2022 BAFTA Awards held in March, where they graced the red carpet together.
While Millie Bobby Brown may be the more globally recognized name due to her role in "Stranger Things", Jake Bongiovi has his own share of celebrity lineage. He's the son of the legendary rock musician Jon Bon Jovi, and the family resemblance is hard to ignore.
Jon Bon Jovi, best known for the iconic hit "Livin' on a Prayer", has been married to Dorothea Hurley since 1989. The couple first fell in love in high school and has four children together. Jake is their third child, with his older siblings being Stephanie Rose, 29, and Jesse, 28. Their youngest sibling is Romeo, who is 19 years old, just like Jake.
View this post on Instagram
NJ.com reported that Jake Bongiovi was socially active during his high school years, leading a school walkout to demand action against school shootings. At the young age of 15, he conveyed his sentiments to the media, expressing, "It's enough. It's happened too many times that we watch it."
Elle Magazine reported that Jake also had athletic pursuits, having played football at Poly Prep Country Day School. Following his high school journey, Jake attended Syracuse University. He proudly donned Syracuse attire in an Instagram post alongside his parents, which indicated that the rock star dad even assisted his son during his move-in process. However, Syracuse University reported that Jake did not continue into his sophomore year.
Jake Bongiovi, while bearing a strong resemblance to his famous musician father, has chosen to pave his own path in the world of acting rather than music. He is ambitious about his acting career, though he has not yet made his official debut.
View this post on Instagram
Jake has two ongoing projects under his belt. He has been cast in an HBO Max film titled "Sweethearts", which completed its production in August 2022. Another project he's involved in is a comedy named "Rockbottom". According to Variety, the show humorously explores the life of a hair metal band. In this, Jake takes on the role of Justin, described as the "potential new lead singer". To lead the band back to success, his character must confront and overcome his stage fright.
Undoubtedly, Jake Bongiovi is carving his own path, mirroring his father's iconic presence in his unique way. As he steps into this new chapter of his life, we extend our heartfelt wishes to him and Millie Bobby Brown on their engagement.