Trudy Menard and Barclay Patoir were an unlikely couple when they first met. Trudy never imagined that they would end up together for over seventy years!
As their affection for each other grew, people around them disapproved because Trudy was white and Barclay was Black. Even their priest had issues with their relationship. Despite the challenges they faced, their love triumphed and they remained together until their passing in 2020, only hours apart from each other.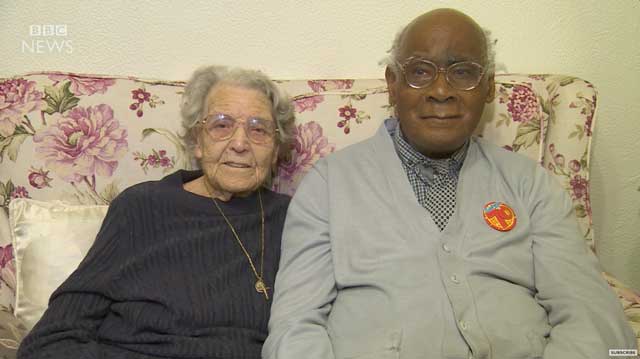 Trudy worked at a match factory in Great Britain until it was damaged in the Blitz. She was then told about a new job at an aircraft factory in Speke. Trudy was paired with an engineer named Barclay, who had come from British Guiana to find work as an engineer during the war. She was hesitant to work with a "colored man" as she had never seen one before, but was told she had to work with him or be fired. Barclay and other young men from the Caribbean volunteered to help Britain during the war because there was a shortage of engineers.
"I needed a new job and was told they wanted girls at the Rootes aircraft factory in Speke. We were paired up with engineers and they told me to go with Barclay. I said, 'I'm not going with a colored man. I've never seen one before.' But they told me if I didn't I'd be sacked so I just got on with it," she told BBC News in 2017.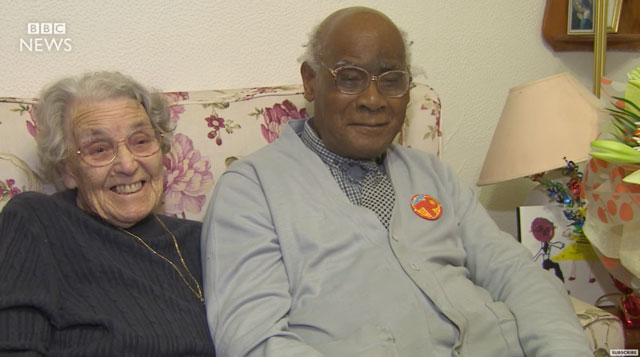 As per the BBC, 345 ordinary people traveled to Liverpool during the years 1941-1943 to help with the war efforts. Among them was a man named Barclay, who was sent to the Speke factory to work on Halifax bombers. He was paired with Trudy, who was initially scared of him. They didn't speak much, but Barclay gradually started bringing her tea and sandwiches. Eventually, they became good friends and talked so much that their coworkers joked about them.
During a pause in their work, the pair went on a romantic outing. They rode the train to Southport, and although some people gave them disapproving glances, they continued to enjoy their date.
Even though Liverpool had a Black settlement from the early days, discrimination still existed.
"I didn't tell my mother when I was going to see Barclay," Trudy said. "She thought I was going in to town to meet the girls. She had noticed I was very happy but she didn't know why. When she did find out she threatened to throw me out the house."
Trudy and Barclay faced societal pressure against their relationship, but they refused to let it weaken their bond. After a year of dating, they decided to take the next step toward a life together. Barclay expressed concern about the difficulty they may face, but Trudy was determined to marry him. Unfortunately, they were denied a church wedding by a prejudiced priest who assumed they would abandon any children they may have.
"He said, 'There's so many colored men coming over here and going back home leaving the women with children. So I'm not marrying you.' We were upset about that."
Despite their disappointment, they opted for a small ceremony at the Liverpool Register Office with only two loved ones in attendance.
Trudy and Barclay left Liverpool and settled in Manchester, but struggled to find accommodation as a mixed-race couple. They eventually found a room in a boarding house and started a new life in Manchester. Over time, society's attitude towards mixed-race couples changed, and Trudy and Barclay celebrated 76 years together before passing away within hours of each other in May 2020.
Let us know your thoughts about this love story in the comment section below. Don't forget to share with friends and family.