Roman Dobryak—a Ukrainian soldier who lost his leg has warmed the hearts of internet users after getting on one knee and proposing to his now fiancée, Julia Matushchak.
Roman sustained an injury to his leg during an attack by Russian troops earlier this year in May.
Roman's video of him proposing has since gone viral accumulating more than three million likes. In the video, Roman is seen being helped onto one knee by a man as he holds onto a clutch. Dobryak's partner, Matuschak, is seen sitting on a bench in front of a lake blindfolded and surrounded by her friends.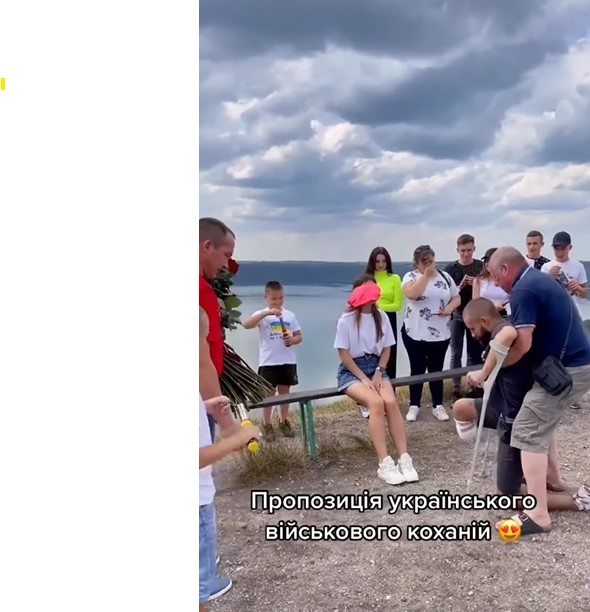 Roman proposing to his girlfriend
When the soldier is set and in position, he removes the engagement ring and a woman standing behind Matuschak takes off her blindfold.
Dobyrak smiles ear to ear when he presents his partner with an engagement ring and she accepts the proposal. Family and friends of the couple are seen wiping away their tears in the viral video.
Matuschak shared the video of the proposal on her Instagram page and captioned it, "Only yours".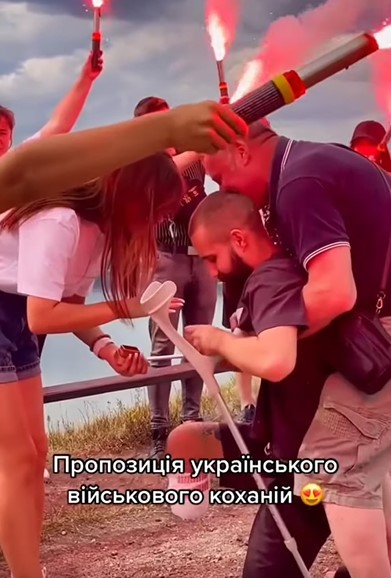 She also shared another picture holding a bouquet of flowers while kissing Dobryak.
Matuschak and Dobryak's proposal video has wowed internet users. It has garnered more than 2.3 million views and more than four thousand comments.
Internet users have thronged to social media to comment on the beautiful video.
Blessings to all who were part of this beautiful engagement. The groom was so happy and teamwork pays off, one internet user commented.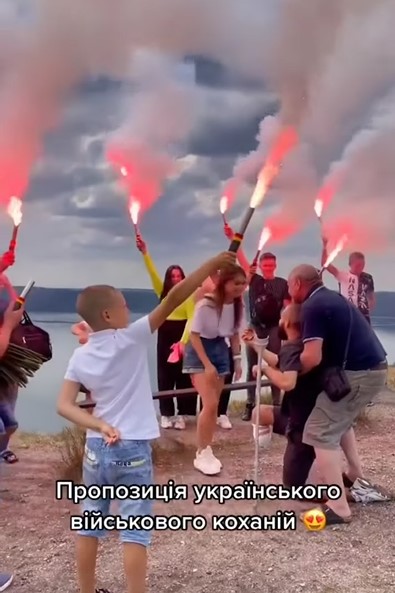 Everyone understood the assignment. This is so beautiful," another internet user commented.
A Ukrainian media outlet TSN.UA reported on the proposal and went ahead to interview the Ukrainian soldier who doubles up as a video creator, Roman Dobryak.
In a different viral video, soldiers are seen frisking civilians at a military checkpoint. As civilians stand with their backs facing the soldiers, one of the soldiers gets down on one knee with a ring and a bouquet of flowers hidden behind his back.
The soldier nudges a civilian woman and proposes to her as soon as she turns around to face him. The people in the video are seen clapping and cheering as the couple hugs.
Article source: Indian Express