A teenager named Emma Wright was completely surprised when she found out she was chosen as her school's homecoming queen. Students at East Forsyth High School in North Carolina voted for Emma, and the touching moment has captured hearts globally.
Emma Wright, an 18-year-old at East Forsyth High School, was in the running with several other girls for the title of homecoming queen. They all stood together on the school's football field awaiting the announcement.
When Emma's name was called, the emotional moment was deeply touching. Known for her friendly and positive nature, Emma is much loved by her peers. Despite having Down syndrome, she's always been a bright and warm presence in her school.
Emma was genuinely surprised when she was announced as this year's homecoming queen. While she was one of several girls considered for the prestigious title, the moment became even more special as her father stood beside her, supporting her as the students' votes were revealed.
A video capturing the heartwarming moment Emma was announced as homecoming queen has spread online. In the footage, Emma, who's a part of the school's cheerleading team, is overwhelmed with emotion and starts crying. Speaking to WXII12, she said, "So amazing. I started crying as soon as they read out my name." Her father, Brad Wright, was deeply touched by the moment as well.
Brad Wright expressed his surprise, saying, "We had no idea, it's something that you prepare for." He continued, "Just getting dressed, getting all the things done and we are so thankful to be a part of the East Forsyth family and so excited for Emma and the opportunity they gave her tonight." The school's Principal, Rusty Hall, also shared his happiness about Emma's win with Fox 8, highlighting that she truly deserved it.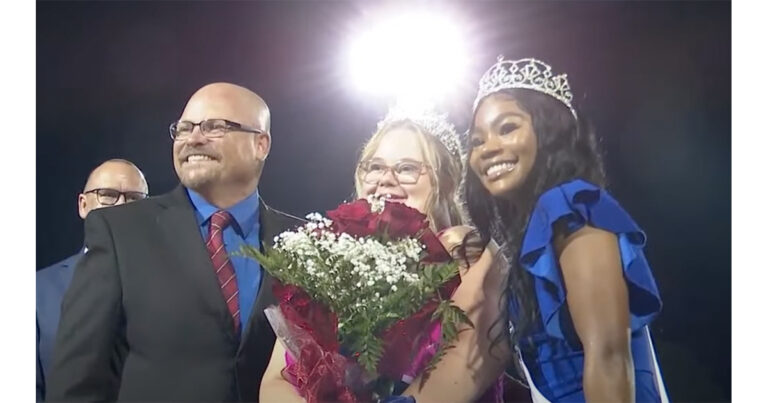 Principal Rusty Hall affectionately referred to Emma as the school's "dancer", saying, "You can see her dancing in the cafeteria, and the hallways, she's loved by the entire student body." Emphasizing the school's inclusive spirit, he added, "It's what we try to push here. Everybody is included, everybody's voice matters regardless of your background, your life before you got here. Once you're here you're family. And we appreciate the contributions of all of our students and tonight was a perfect example."
October, the month when Emma was announced as the homecoming queen, is also Down Syndrome Awareness Month, making the moment even more poignant. According to reports, Emma has aspirations to open her own bakery and ice cream shop in the future.
After graduating next year, she's planning to attend Western Carolina University in Cullowhee, North Carolina.