The spirit of the Christmas season is back, and we can all look forward to seeing many acts of kindness throughout this month. It is a time and period devoted to showing love and generosity, especially to those in need.
Christmas will soon arrive, and we will be showered with its benefits once again. A beautiful Christmas tree is dependent on proper setup and decorations, so prepare yours, put your stockings on the mantle, and start shopping for presents.
During this season, we enjoy holiday celebrations with friends and family, watch Christmas movies, and sing Christmas carols. It's the time of year when we look forward to Santa bringing us our Christmas presents. That is if we aren't on his list of undesirables, and I know you are already in the mood.
Santa Claus pulling a sleigh filled with gifts in a picture makes Christmas perfect. The mythical character Father Christmas also referred to as Santa Claus, is said to bring gifts to the homes of good-behaving kids on Christmas Eve.
Are you interested in seeing Santa on his evening rounds every day? When everyone has gone to bed, that is when you will find him. Santa Claus continues to lift children's spirits despite being a mythical figure.
When Santa Claus presents gifts to children, the children become fascinated by large shopping malls. They give children magical, heartwarming experiences that they will never forget.
Here comes a Texas woman who was able to capture a generous Santa. She couldn't resist taking a picture of him because she was so moved by what he did. It happened when Santa visited a child and distributed Christmas presents inside a hospital.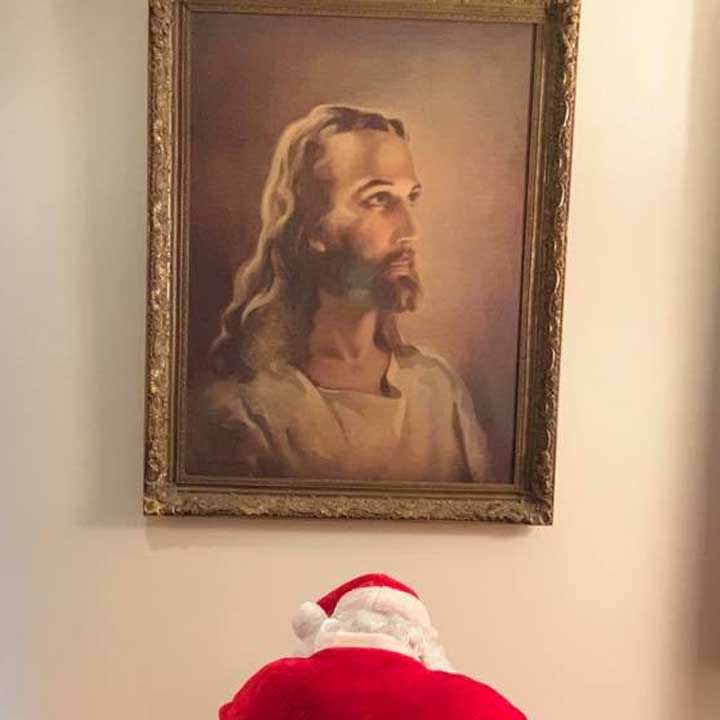 Christmas can be boring for a child if it finds them in the hospital. The child must spend Christmas in a cold hospital rather than with family and friends around a warm fire and a large Christmas tree.
The hospital staff and parents try their best to lighten the mood. They request that a cheery Santa Claus visit these children and brighten their day. The big man with the presents, however, may also experience some emotion during these visits.
Maria Whitley Tumilson had an amazing experience while working in a hospital in Texas. Santa Claus was hired by the Valley Regional Medical Center in Brownsville, Texas, to visit the young patients. Santa amused the children and made a lot of effort to make them happy. After completing his heartwarming deed, he prepared to leave and asked Mariana where the chapel was.
He expressed his desire to pray for the children to Mariana. He asked Mariana for directions to the chapel, which she provided before leaving him alone. What she saw when she returned to the building moved her.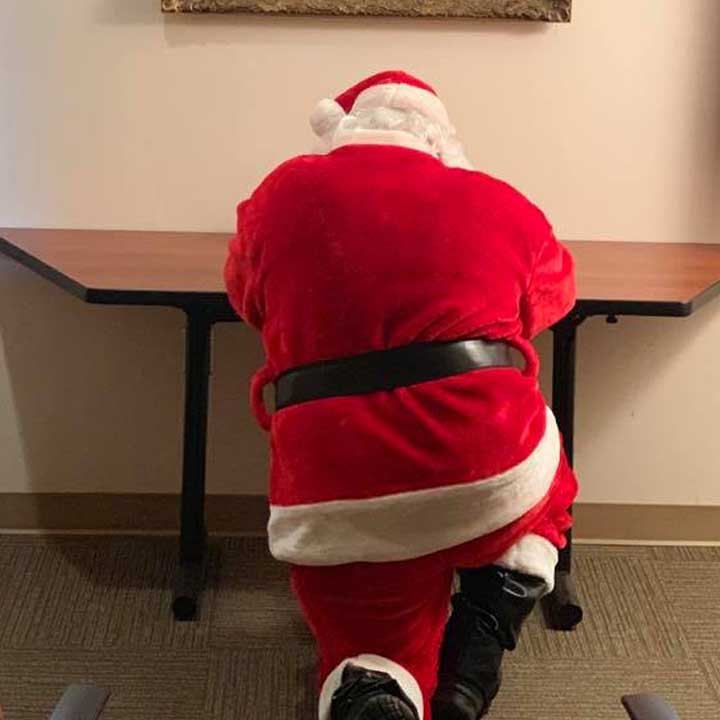 Santa Claus was in silent prayer in front of the picture of Jesus. Mariana claims that when she sees the picture, which will never grow old in her eyes, she is overcome with joy. In 2018 she shared a Facebook post with a caption that said:
"I keep getting choked up with this photo." "Today, while Santa was leaving after visiting our patients, he passed by our chapel." He requested permission to enter and pray for the children he had just visited. Naturally, I replied, "Sure." I didn't immediately enter the room with him, but when I did, I was so moved by this scene that I had to take a picture of it. What a wonderful reminder of the holiday's purpose! #theseasonswhy #myfavoriteanta
The picture amassed a large following and currently has over 42,000 likes.
Christmas is more than simply a time for gift-giving; it is also a time to commemorate the birth of Jesus Christ. This is the season to cultivate neighborly kindness, humility, and love. And this kind Santa was acting accordingly.
We sincerely hope that you are kind throughout the year, not just on special occasions. Happy Holidays! Please pass this along to family and friends as a reminder to practice kindness this holiday season.