A young boy has wowed internet users after praying for his younger sister who is ailing from a serious flu. 
His young sister snuggles in bed fast asleep as her elder brother prays for her. 
He places his hands on his sister's shoulders and prays loudly. 
The young boy hopes that when he returns home from school he will find his sister cured of the flu or even in a better condition.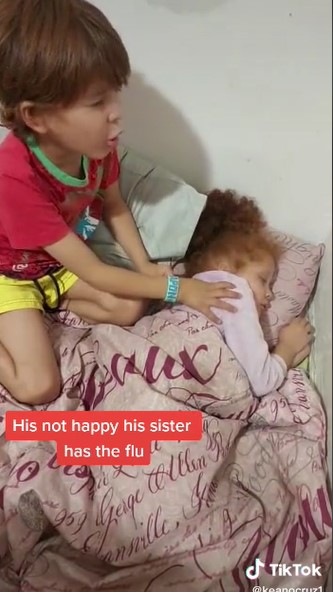 He prays:
"Thank you for a beautiful sister Father God. I pray when I come back from school. I pray that you give her love, I pray Father God that you won't make her sick, You took the sickness and you died on the cross and you made the sickness die Father God.
I pray from the crown of her head to the sole of her feet. I pray that when I come from school and she wakes up , she'll be healed or better. I pray that I won't be sick and you'll make no one sick. In Jesus Mighty Name Amen."
His parents who are supposedly believers join him in the prayers as he speaks in tongues.
We are astounded by this young man's faith. We also pray to God for speedy recovery of his little sister from the flu. God bless his heart.