Teachers play a crucial role in our society, but they often don't get the appreciation they deserve. They not only educate us but also act as mentors and role models, consistently going the extra mile to support their students.
Jonathan Oliver, a phys-ed teacher at WG Nunn Elementary in Valdosta, Georgia, recently showcased his kindness during a basketball game. When a young player, Kristen Paulk, approached him for help with tying her hair into a ponytail, Oliver didn't hesitate to assist. His simple act displays the important role teachers play both in and out of the classroom.
While coaching basketball, Jonathan Oliver took a moment to kneel down and help young Kristen with her hair braids. As he focused on helping her, he didn't realize that Kandice Anderson, a fellow teacher, was capturing the touching moment on camera. She later shared the video on YouTube with the title, "When your job goes beyond teaching!" The video quickly gained attention, with many praising Oliver for his kindness and dedication to his students.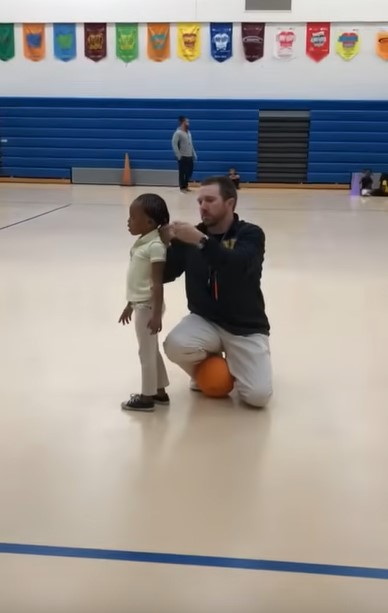 Jonathan Oliver's heartwarming act was featured on "Good Morning America." The 34-year-old father of three expressed his surprise at the attention, telling the show, "It was shocking to me that it got that much attention because we all do it." He mentioned he wasn't aware he was being recorded. Oliver emphasized the role of teachers, saying, "We want to make them feel like they're at home and that they enjoy being here. We try to love on them as much as possible. To me, it was just a ponytail."
Coach Oliver shared with the media that Kristen approached him during a basketball game to help with her ponytail. While he frequently assists his own daughter with her hair, he humorously admitted his hairstyling skills are limited. "It was a good thing she asked for a ponytail. Anything else, I'd say, 'You better ask your mom,'" the coach joked.
Miyah Cleckley, Kristen's mother, was deeply moved by the video. She shared, "I always know that Kristen is in very good hands with him. I thought it was really cute because her father he does their hair a lot. We have five girls and one son so when I'm working he has to pick up the weight of doing their hair."
We'd love to hear your thoughts on this heartwarming story in the comments!