Madonna is a famous celebrity who has always been known for being bold and causing controversy. She rose to fame by breaking the norms and making a statement.
Now at 64 years old, she continues to stay in the spotlight and was recently at the 2023 Grammy Awards to present an award.
Me attempting to ignore the fact that Madonna has a whole new face. #GRAMMYs pic.twitter.com/ZsNJzfRNdK

— Petty Pablo (@electricsoul123) February 6, 2023
During her time on stage, she showed support to all the rebels in the world. However, it was her appearance that caught people's attention and created a buzz on the internet.
Madonna is known worldwide as the Queen of Pop and she has been successful in everything she has tried. But recently, fans were worried about her appearance.
Many famous people today want to keep their youthful looks for as long as they can. They do this by living healthy, using makeup, and even having plastic surgery or modifying their bodies. This has been a common practice among A-list celebrities for a long time and it is becoming more popular, not less.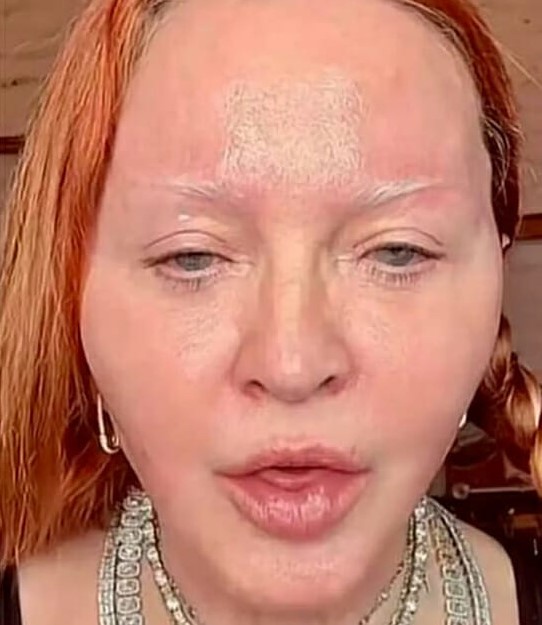 It's important to remember that everyone is unique and beautiful in their own way. There's no need to try to look like someone else or follow unrealistic beauty standards. As we get older, we should embrace aging as a part of life. It's a sign that we've lived a long time, which is something to be proud of.
Unfortunately, some famous people change their appearance too much as they age. This can be disappointing to see. For example, fans were concerned about Simon Cowell's new look last year, and recently a clip of Madonna has been making the rounds.
I'm all for cosmetic surgery but @Madonna should have left her face alone after her last lift. Her hair, makeup & eyebrows make her only look worse. The mother of reinvention needs an intervention. And yes, I'll be paying 1,300 to see her at MSG this summer. #GRAMMYs pic.twitter.com/PGIN5nNrfa

— Damon Gonzalez (@TheyCallMeDaymz) February 6, 2023
At the 2023 Grammy Awards, Madonna spoke before Sam Smith's performance. She thanked the brave people who stand up for what they believe in and take the heat for it. Madonna said, "I'm here to give thanks to all the rebels out there, forging a new path and taking the heat for all of it. You guys need to know all you troublemakers out there you need to know that your fearlessness does not go unnoticed." "You are seen, you are heard, and most of all, you are appreciated."
People were talking about Madonna's appearance more than her words. They were surprised by her changed look with bigger lips, puffy cheeks, and braided hair. Some fans even had trouble recognizing her and one of them tweeted, "Madonna who? That can't be her? Can it ?"
People have been talking about Madonna's changing appearance for a long time. Recently, in December, people were talking about it again after she posted a strange video on social media. The video made her look very different and people were surprised.
"If they call you shocking, scandalous, troublesome, problematic, provocative or dangerous, you are definitely onto something," the Queen of Pop declared. #Grammys https://t.co/y1OzKpY1Jq

— HuffPost UK (@HuffPostUK) February 6, 2023
Critics quickly commented on her appearance and some were not very nice. Madonna is 64 years old now and it is normal for her to look different from when she was in her 20s. However, some people believe that she has gone too far with her latest look. "You don't look like Madonna anymore…. :-(," one Instagram user wrote in the comments section of a recent post on her Instagram.
We believe that everyone has the right to make their own choices and we will not judge them for wanting to change their appearance. However, it's important to understand that true happiness comes from within, not from what others think.
Let us know your thoughts about Madonna's latest appearance in the comment section below.