Expecting parents often enjoy photographing the mother's growing belly as a way to celebrate the anticipation and happiness of welcoming a new family member. These maternity images serve as cherished keepsakes, allowing the couple to reminisce about the moments before their child's arrival.
Each maternity photo holds its own unique beauty, but some stand out as particularly unforgettable. These treasured images can be enjoyed for years to come, as parents look back on their journey into parenthood with fond memories.
Dan Mozer, a 30-year-old father-to-be, proposed that he and his wife visit the well-liked Atlantic Beach in Jacksonville, Florida, for a photo session. The beach is a favorite spot for locals to unwind, walk, and capture memories with their cameras.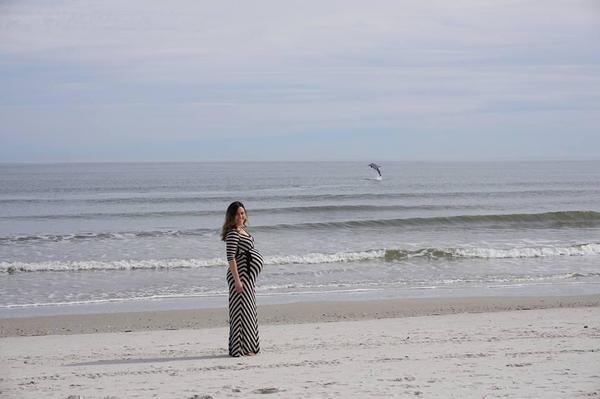 Feeling inspired, Dan asked his wife, Angelina, to strike a pose in front of the ocean backdrop. Their impromptu photoshoot captured precious moments as they prepared to welcome their baby into the world.
As Dan started taking photos, Angelina happily displayed her baby bump with the ocean waves behind her. However, upon reviewing the captured images, Dan quickly recognized that one of them was truly extraordinary.
In a perfect moment of timing, a dolphin leaped out of the water right behind Angelina as the photo was taken. This serendipitous event created a once-in-a-lifetime picture that the couple will surely treasure for years to come.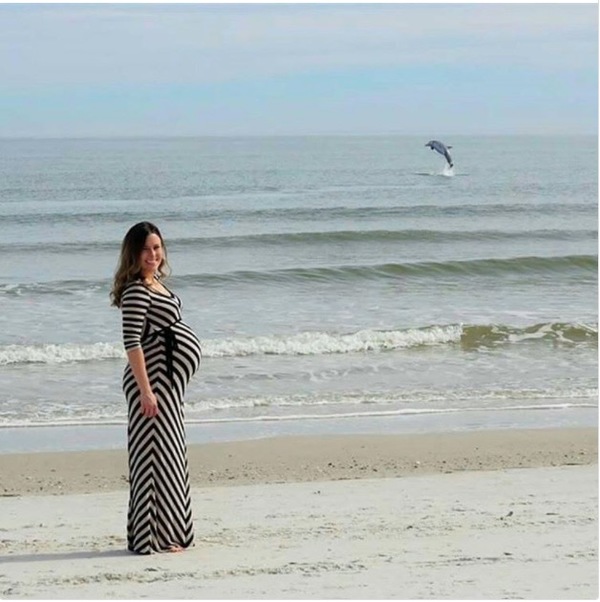 Dan was aware that dolphins inhabited the area, but he never anticipated capturing one mid-leap in the background of his wife's maternity photo. Excited by the incredible shot, he shared his surprise with AWM, mentioning that Angelina had unfortunately missed the actual moment.
The couple, who welcomed their son Courtland on January 27th, attribute the magical photo to their baby boy. They lightheartedly joke that Courtland summoned the dolphin from his mother's belly, making the picture even more special and memorable.
In an interview with Yahoo, Dan elaborated on the events leading to the remarkable photo. As onlookers alerted them to the dolphins and their visible dorsal fins, one dolphin unexpectedly leaped out of the water. Dan humorously wondered if the dolphin was aware of the situation.
Although the dolphin jumped twice, Dan preferred the first captured image. Despite the playful speculation about their son's connection with dolphins, Dan confirmed that they wouldn't change Courtland's name to something like "Dolph Finn," as some have suggested.
Let us know your thoughts about this story in the comment section below.