When summer vacation arrives, many students are unsure how to fill their free time. Some choose to work, while others attend camp or travel with their families.
However, Ellie Yeater, a 14-year-old from West Virginia, had a clear vision for how she wanted to spend her summer.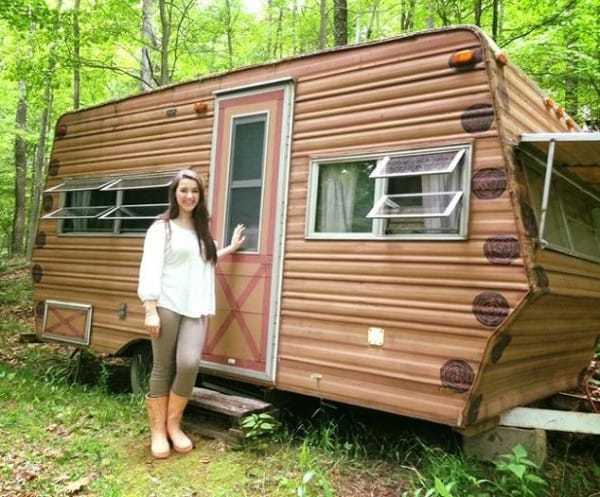 Ellie spent her summer working on a project she had always dreamed of: turning an old camper into a beautiful space where she could relax with her friends. Her hard work paid off, as she transformed the camper into a cozy and inviting hangout spot. Instead of simply passing the time, Ellie used her summer vacation to pursue her passion and create something truly special.
After months of hard work, Ellie Yeater's dream finally came to fruition. She transformed an old camper from 1974 into a stunning hangout spot for herself and her friends. The inside of the camper needed a complete overhaul, and Ellie was up for the challenge. With her birthday money, she purchased the camper and spent countless hours renovating it.
The camper's furniture had not been updated since the 1970s, so Ellie had her work cut out for her. But with determination and a vision, she completely transformed the space. The result was a cozy and inviting hangout spot that Ellie and her friends could enjoy for years to come. Ellie's hard work and creativity have earned her praise and admiration from people all over the world.
Ellie was determined to make her dream project a reality, so she started by scraping the floors of the old camper. Luckily, her father and brother, both experienced renovators, were there to guide and assist her throughout the project. After removing the rot and repairing the floors, it was time to start decorating.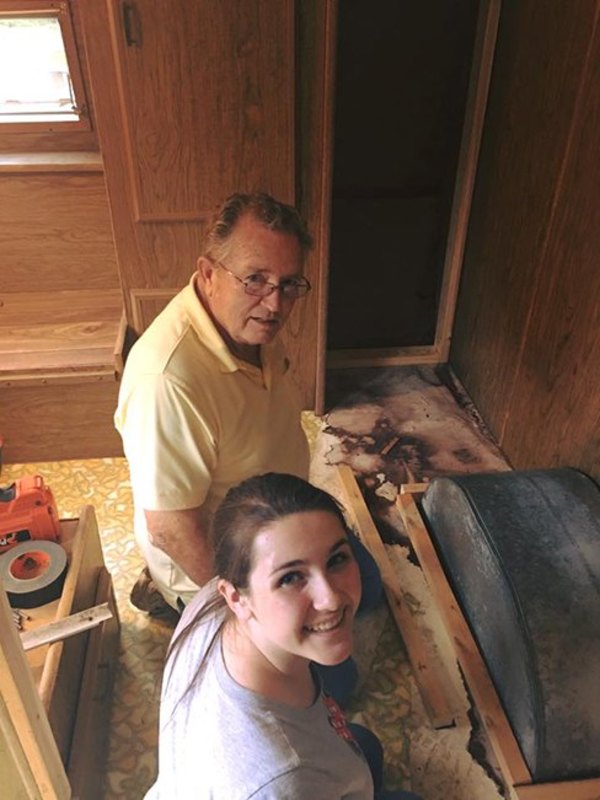 Ellie's first priority was to change the color of the camper. She wanted it to reflect her personal style, so she chose a bright and beautiful blue called "mystic sea." With a fresh coat of paint, the camper already looked completely different. Ellie continued to decorate the inside of the camper, transforming it into a cozy and inviting space. Her hard work and creativity paid off, and the end result was a beautiful and unique hangout spot that she and her friends could enjoy for many summers to come.
With the exterior of the camper painted, Ellie moved on to the inside. She chose a peachy color for the walls and accented it with aqua blue. The old tiles from the 70s were replaced with new wood-patterned flooring, and Ellie began adding decorations to the space. Even her grandmother got involved, sewing curtains, towels, and pillowcases to complete the look.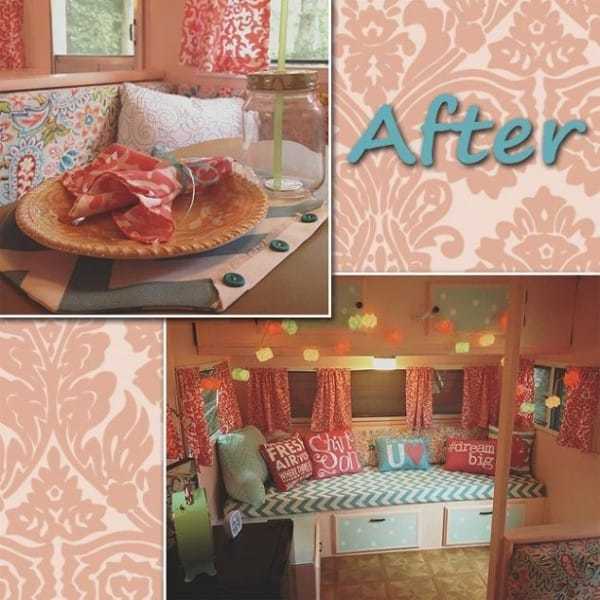 In just one summer, Ellie's hard work and determination transformed the old camper into her own private retreat. The before and after pictures show just how impressive her project was, especially for a 14-year-old. Ellie's passion and creativity have earned her well-deserved praise and recognition for creating a beautiful space that she and her friends can enjoy for years to come.
Ellie received support and guidance from her family and loved ones throughout the project. They were all eager to help her achieve her vision and even had an open invitation to visit her in the camper once it was finished. Ellie's mom, Lori, has always encouraged her daughter to be an out-of-the-box thinker and to pursue her passions.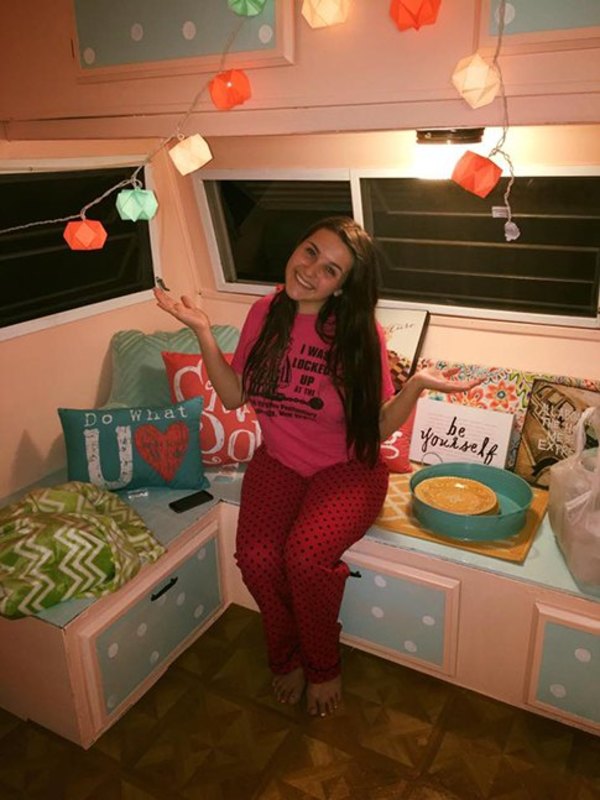 Ellie's determination and creativity are truly inspiring, and she deserves all the recognition for her hard work. By turning an old camper into a beautiful hangout spot, Ellie has shown that summer vacation can be a time to pursue one's dreams and create something truly special. Her project is a testament to the power of imagination and hard work, and she certainly deserves two thumbs up for her impressive accomplishment!