A touching photo captures the moment a 6-year-old boy says goodnight to his younger sister for the last time. The father, Matt Sooter from Arkansas, photographed his 4-year-old daughter Adalynn, known as "Addy", who was battling a rare cancer.
A young boy had to bid farewell to his little sister, described by their dad, Matt, as his "partner in crime" and "best friend." Over 8,000 people have been moved by this poignant photo. The family now hopes to spread awareness about the uncommon illness their daughter faced.
In November 2016, the Sooter family received devastating news: their daughter Addy was diagnosed with Diffuse Intrinsic Pontine Glioma (DIPG), a rare brainstem tumor. She lived with the tumor for 18 months, after which her condition deteriorated.
In a heartfelt Facebook post, Matt shared the swift decline in his 4-year-old daughter's health. He wrote, "Addy's symptoms have progressed rapidly over the past day and a half. Yesterday she woke up as her spunky playful self. While we still see short instances of our girl she can no longer eat or swallow without difficulty and she's sleeping most of the time now and we've admitted her into inpatient care. Most likely she doesn't have much time left."
In a deeply emotional post, Matt urged friends and family who wished to bid their final goodbyes to his daughter to reach out. He also asked everyone to keep his son Jackson in their thoughts, as the devoted older brother couldn't bear to leave his sister's side.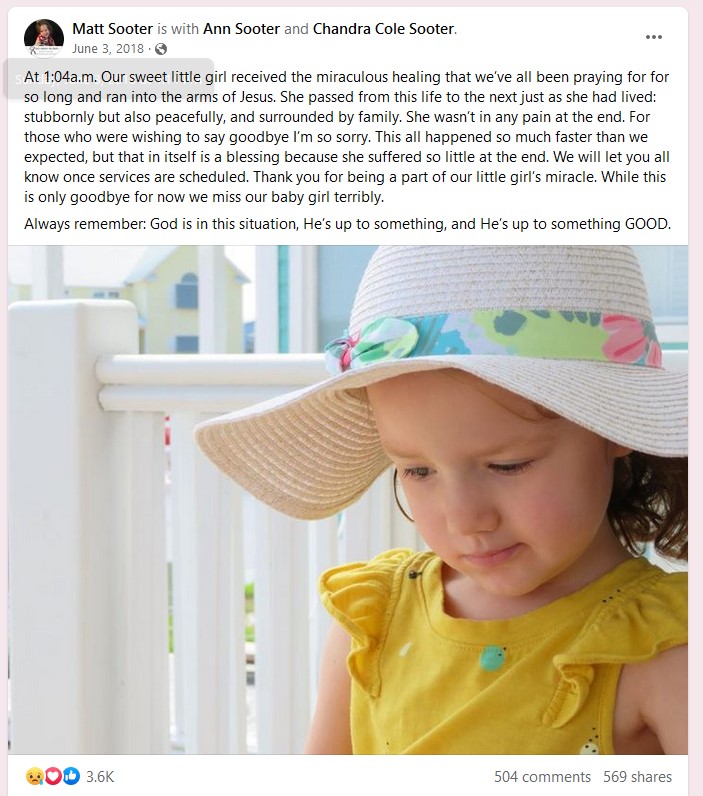 Shortly after Jackson bid his little sister goodnight and told her he loved her, she sadly passed away. The family, on their Facebook page 'Hope for Addy Joy – Fighting DIPG', announced her departure. The post stated, "She passed from this life to the next just as she had lived: stubbornly but also peacefully, and surrounded by family. She wasn't in any pain at the end," it read. "While this is only goodbye for now we miss our baby girl terribly."
Addy's family chose to donate her brain and spine tumors to scientific research, aiming to help other children avoid such a tragic fate. On Facebook, they shared, "Our sweet girl loved helping people and giving gifts so we thought this would be an excellent way of showing her giving heart." Many people are affected by this dreadful disease, but it's especially heart-wrenching when it impacts children. Farewell to the little angel, Addy.