The comedy world is mourning the sudden loss of comedian Andy Smart, who passed away at the age of 63. Smart was a regular performer at The Comedy Store club in Soho, London, where he appeared most Sunday nights as part of The Comedy Store Players improv group.
The news of Smart's passing was shared by his daughter, Grace, on social media. She urged everyone to "raise a glass for him" in memory of her father's incredible life and many friends. Fellow comedian Eddie Izzard paid tribute to Smart, acknowledging his humor and improvisational skills and noting that his talent will be missed.
Josie Lawrence, a fellow Comedy Store Player who often shared the stage with Andy Smart, expressed her deep sorrow at his passing. The entire group of Comedy Store Players is devastated by the news, and they all feel the tremendous void left by Smart's absence.
RIP Andy Smart. A great laugh and always a brilliant guy to be around. https://t.co/MNtl63u1nP

— Kevin Bridges (@kevinbridges86) May 17, 2023
Lawrence fondly remembered Smart's laughter and the "crazy stuff" he did, which made their world more enjoyable. She and her fellow comedians had great love and appreciation for him, and he will be sorely missed.
Rufus Hound, a comedian and actor, joined in paying tribute to the late Andy Smart. Hound expressed his heartbreak and highlighted Smart's exceptional character, acknowledging the dimmed light left in his wake. Hound planned to raise a drink in Smart's memory, celebrating his incredible spirit.
Andy Smart had been a permanent member of the Comedy Store Players since 1995. The group, founded in 1985 by Kit Hollerbach, Dave Cohen, Neil Mullarkey, and Mike Myers, will now continue without him, honoring his legacy in comedy.
The comic had performed at The Comedy Store in London, a venue at which he appeared regularly for 13 years, just days before his death.https://t.co/YKWdPPdFCX

— The Daily Beast (@thedailybeast) May 17, 2023
Prior to joining the Comedy Store Players, Andy Smart was part of the duo known as the Vicious Boys with Angelo Abela. They won the 1984 Time Out Street Entertainer Award for their performances. Smart went on to make appearances on London Weekend Television's Wake Up London and Channel 4's The Tube. In one memorable moment, dressed as a bell boy while pretending to be a Great Dane dog, Smart playfully licked presenter Paula Yates' face.
Over the years, the Comedy Store Players have featured a lineup of renowned comedians, including Mike Myers, Paul Merton, and Sandi Toksvig, all of whom had the opportunity to share the stage with the late Andy Smart.
Andy Smart was a key member of the popular improv comedy group, the Comedy Store Players, performing alongside Richard Vranch, Neil Mullarkey, Lee Simpson, and Josie Lawrence. He was a fixture at The Comedy Store club in Soho, London, where he appeared most Sunday nights to entertain audiences with his improvisational skills.
The Comedy Store Players marked their 15th anniversary in October 2000 with a celebration at The Comedy Store. The event featured notable performers, such as Paul Merton, Richard Vranch, Andy Smart, and Josie Lawrence, all of whom contributed to the group's ongoing success.
Dara O Briain, former presenter of Mock The Week, remembered Andy Smart as a "force for joy" whose presence would be greatly missed. Musician Kirsty Newton, who shared the stage with Smart on Sunday, praised him for his brilliance and love for life, expressing disbelief and heartbreak over his passing.
Al Murray, widely recognized for his "Pub Landlord" character, joined in the condolences, describing Smart as a "wonderful and charming man." The outpouring of grief and tributes from fellow comedians and performers reflects the impact Andy Smart had on their lives and the comedy community.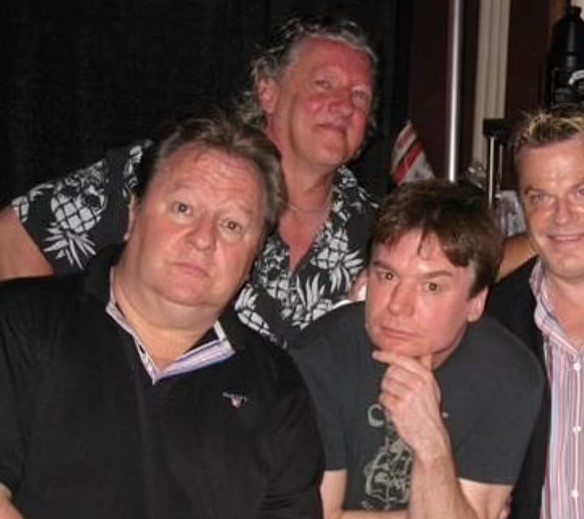 Comedian Dave Gorman expressed his condolences to Andy Smart's daughter, Grace, acknowledging that Smart was "one of the good guys" and always great company. Kevin Bridges shared fond memories of spending time with Smart at various comedy festivals over the years and extended his thoughts to Grace and her family.
Milton Jones also reacted to the news with sadness, recognizing Smart's ability to enjoy life both on and off the stage. He offered his sympathy to those closest to Smart and mentioned that he would miss his infectious grin. The affectionate tributes from fellow comedians continue to show the impact that Andy Smart had on their lives and careers.
Rest in peace Andy Smart!