On many occasions, police officers frequently face harsh criticism while performing their duties.
Even though some of the criticisms are well-founded, there is still a good number of officers out there who work because they really want to change the world—and Officer James Hurst is one of them.
Officer James, a rookie with the Savannah Chatham Metropolitan Police, went viral in 2016 after a photo of him cuddling an abandoned baby surfaced online.
James and a few of his coworkers were sent to investigate a call that had come in from the Cuyler-Brownsville area of Savannah, Georgia.
.@SCMPD Officer James Hurst stayed with a 16-month-old at the hospital for two hours after finding the toddler outside alone. Hurst said he simply wanted to be there for the child who, at the time, had no one.https://t.co/Yyj8bxepkk

— David Perdue (@sendavidperdue) January 10, 2018
It turned out that worried neighbors had reported a sixteen-month-old boy running loose in the streets. It was unclear who he was, where he had come from, and how long he had been on his own.
Officer James, who is a father of two kids, understood that something needed to be done. The officers brought the abandoned youngster to the emergency room to be examined, but the young child became distressed due to the abrupt change in surroundings.
"The boy, obviously, being so small, became very upset. He was crying. He was sobbing," James explained. "I asked the hospital staff if I can hold him to comfort him and soothe him a little bit to try to calm him down, to continue getting medical care and they said that was fine."
"So I picked him up, minutes later, he, I was standing and he was asleep on my chest and with all my body armor and my gun belt, became very heavy holding this small child, so that's when I decided to sit down on the bed and make it easier for him and me."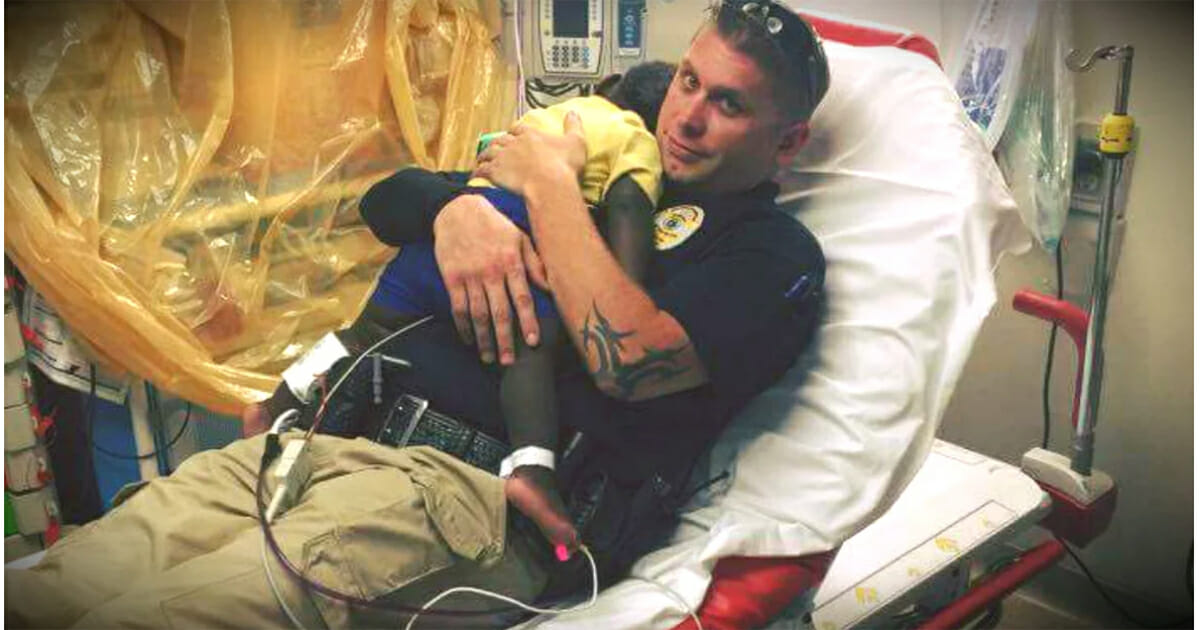 A photo of James holding the baby was posted on social media and it immediately went viral. "It was just natural to want to soothe this child, um, I didn't expect any of this, it's been quite overwhelming actually," Officer Hurst explained.
Thankfully, the abandoned child made a full recovery and was placed in the custody of the Georgia Department of Family & Children's Services.
"This job is so much more than just chasing the bad guys, it is about serving the citizens of the communities you work in and doing what they need you to do," said Officer Hurst.
A special thanks to Officer James for stepping in and helping this little youngster.